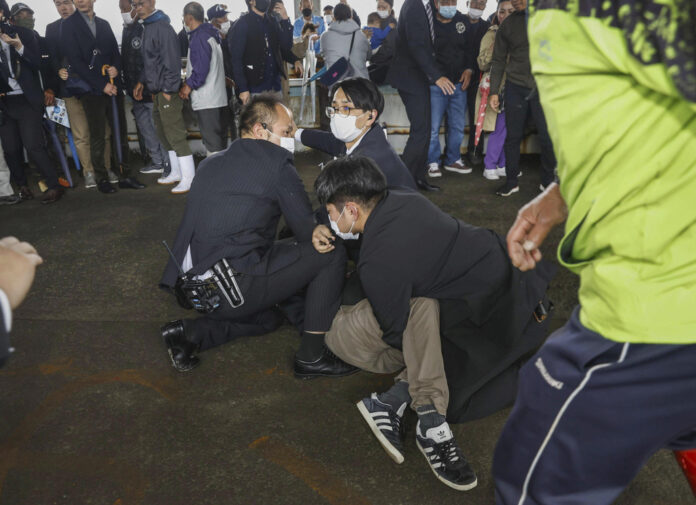 TOKYO — Prime Minister Fumio Kishida was unhurt after a man threw a cylindrical object which exploded ahead of a stump speech he was due to make during his visit to western Japan on Saturday, less than a year after a former premier was fatally shot during election campaigning.
Kishida immediately left by car after the incident, which took place as he was talking with a candidate of the ruling Liberal Democratic Party just before his scheduled speech at a fishing port in the city of Wakayama. According to investigative sources, Ryuji Kimura, a 24-year-old man from Hyogo Prefecture, was arrested at the scene.
In a stump speech elsewhere in the city, Kishida said the incident should not be allowed to disrupt the electoral process. "Together with you all, we have to carry on with the election."
Chief Cabinet Secretary Hirokazu Matsuno told reporters at the prime minister's office, "Elections are a bedrock of democracy. It is extremely unforgivable that such violence took place (at such a time)."
Matsuno, Japan's top government spokesman, said police are investigating the suspect's motive and called for the National Police Agency to ensure the protection of VIPs.
The object was thrown at around 11:25 a.m. from among a crowd of several hundred people. A loud explosion was heard, sending people fleeing in panic, and there was a smell of burning.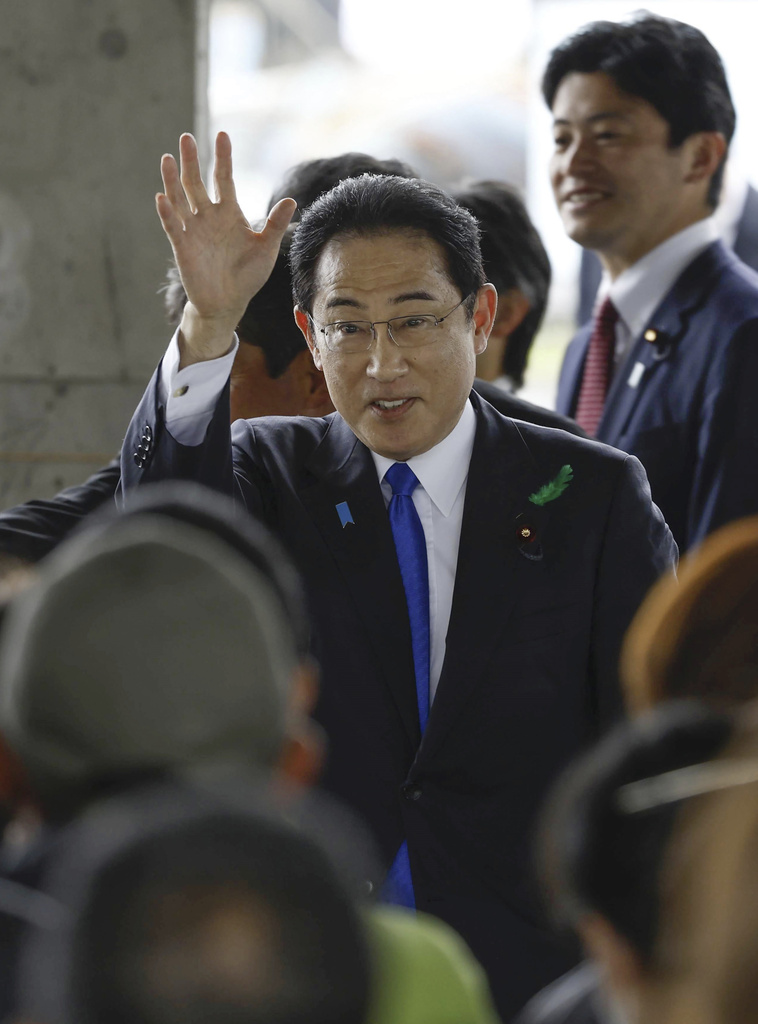 Naoya Tanimoto, who was among the crowd, said he heard a loud explosion around 10 seconds after the man was wrestled to the ground. "It is usually quiet in the fishing port, so I was really scared. We were all in a panic," Tanimoto, 31, said.
Fire trucks were mobilized but there were no reports of injuries.
After the incident, Kishida was escorted by security police officers to a car parked just a dozen meters away and driven to the headquarters of the Wakayama prefectural police.
According to the Associated Press, a young man believed to be a suspect was arrested Saturday at the scene after he allegedly threw the explosive, NHK said. TV footage showed several uniformed and plainclothes police officers gathered around the man, piling onto him and roughly dragging him over the ground. It wasn't immediately clear what caused the explosion, but some reports said it was a smoke or pipe bomb.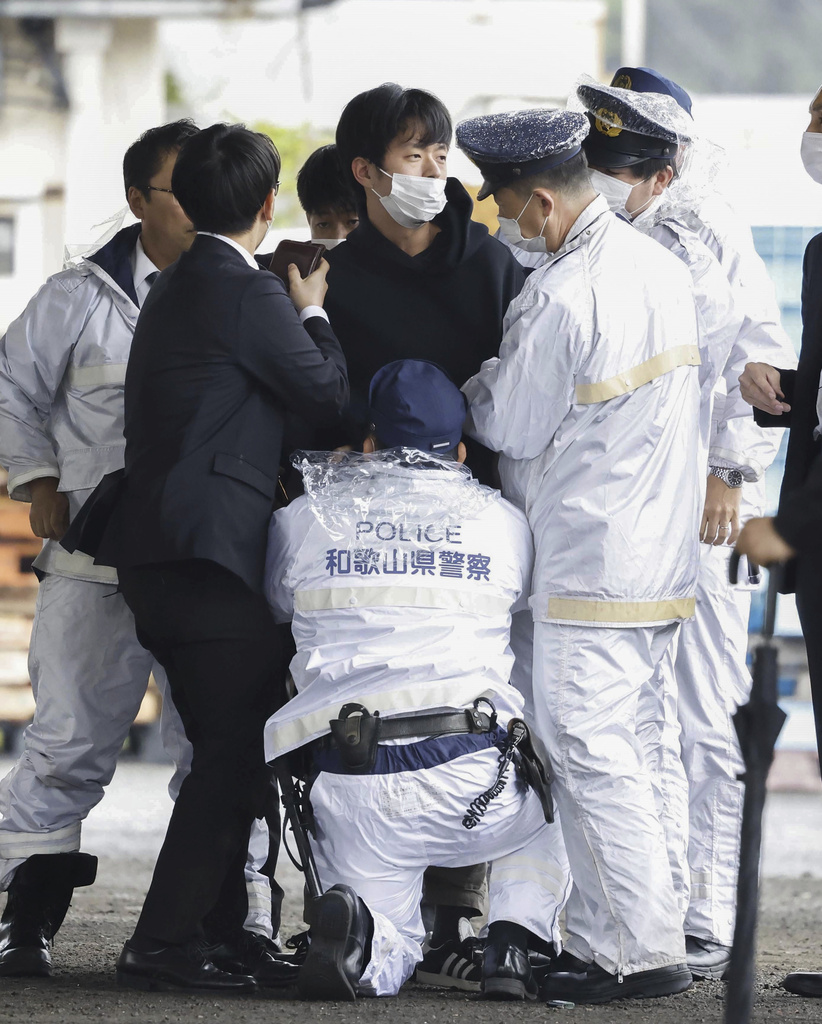 No injuries were reported in the incident, which came on the eve of a major international forum in Japan. Kishida was not hurt and planned to continue giving campaign speeches later Saturday, according to a government official who spoke on condition of anonymity because he's not authorized to publicly speak to the press.
Former Prime Minister Shinzo Abe was fatally shot in July last year during a stump speech in the city of Nara before the House of Councillors election, leading the NPA to bolster its VIP security.
The agency had also called for security to be stepped up ahead of House of Representatives by-elections in late April and the Group of Seven summit in Hiroshima in May.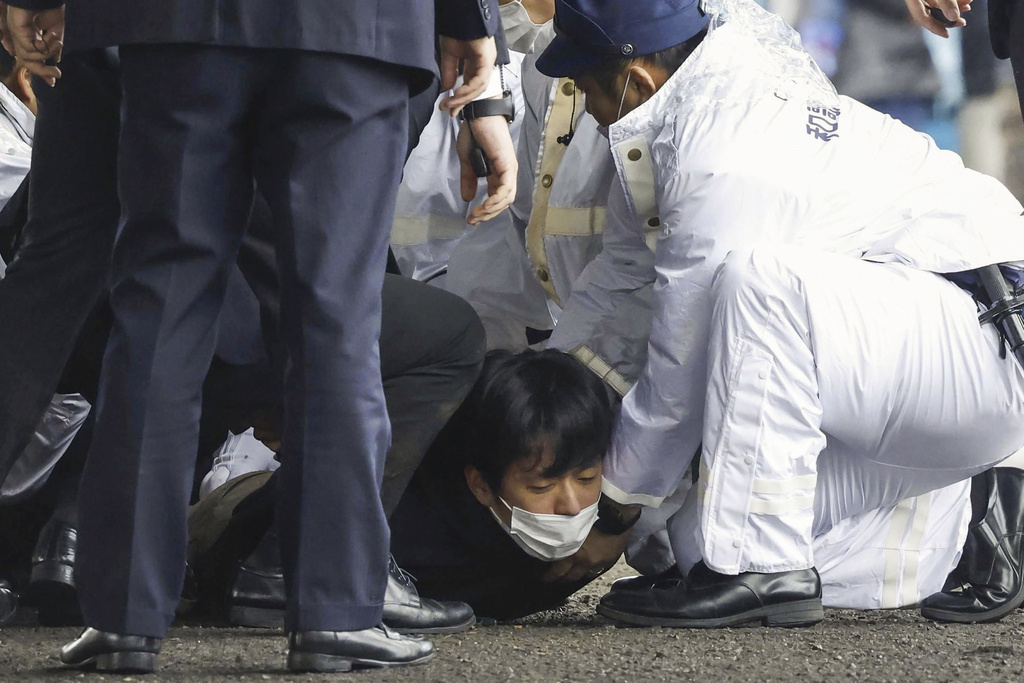 The latest incident took place during official campaigning for a lower house by-election in the Wakayama No. 1 district.
A woman in her 50s who works near the fishing port said, "I thought there was some kind of explosion and something similar to what happened to former Prime Minister Shinzo Abe might have occurred."
In Sapporo, Jonathan Wilkinson, Canada's minister of natural resources, said on the fringes of the G-7 ministers' meeting on climate, energy and environmental issues that he heard about the incident.
"We are all very happy that he (Kishida) is well," Wilkinson said at the outset of a bilateral meeting with Japan's economy and trade minister Yasutoshi Nishimura.
___
Chronology of major attacks on politicians in Japan
The following is a list of major attacks on politicians in Japan.
Jan. 18, 1990 — Nagasaki Mayor Hitoshi Motoshima shot by member of right-wing group, suffers serious injury.
March 20, 1992 — Shin Kanemaru, vice president of ruling Liberal Democratic Party, unhurt after gun shots fired in Ashikaga, Tochigi Prefecture.
May 30, 1994 — Ex-Prime Minister Morihiro Hosokawa unhurt after gun attack at Tokyo hotel.
Oct. 25, 2002 — Democratic Party of Japan lawmaker Koki Ishii stabbed to death by right-wing group leader.
April 17, 2007 — Nagasaki Mayor Itcho Ito shot by senior member of crime syndicate, dies next day.
July 8, 2022 — Ex-Prime Minister Shinzo Abe dies after being shot by man while giving stump speech in Nara.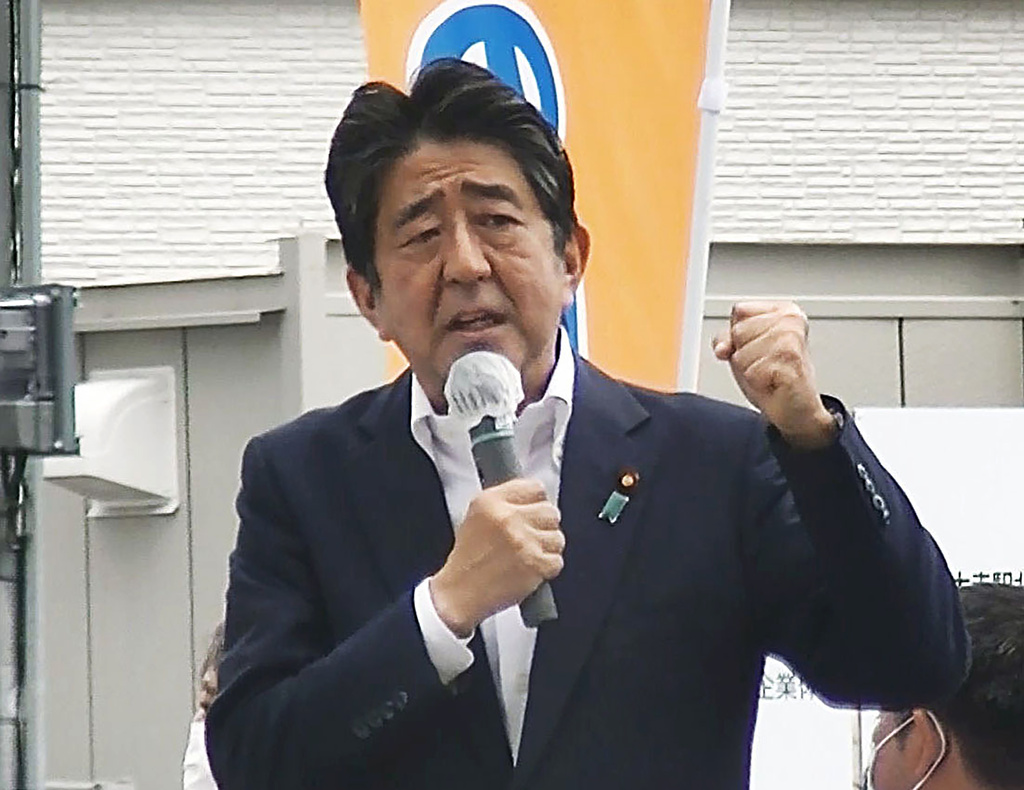 April 15, 2023 — Prime Minister Fumio Kishida unhurt after smoke bomb thrown during stump speech in Wakayama for by-election.