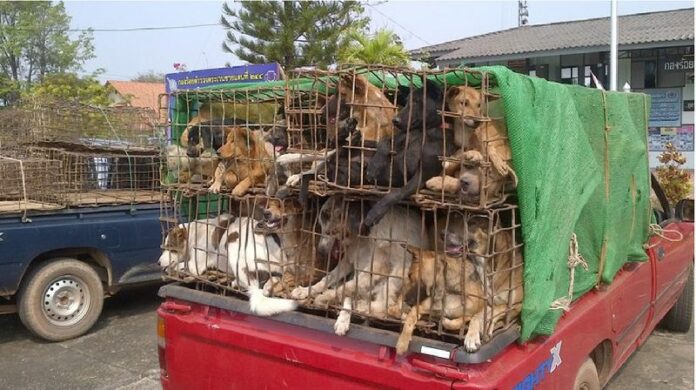 BANGKOK (DPA) – Among the non-stop crowds at Bangkok's main international airport are a small group of more unusual travellers going on the trip of a lifetime.
Rocket, Pippi, Palin and Smartie are sitting in their individual crates on luggage trolleys waiting to be checked in among airline passengers, bringing smiles to onlookers. Their destination is Los Angeles, California.
Smartie, one of the four rescued dogs going to Los Angeles, California, is sitting in his crate waiting to be checked in at Suvarnabhumi Airport in Bangkok, Thailand.
Soon to board his first flight, Rocket appears nervous, barking loudly and scratching away at his large blue kennel trying to get the door open.
His canine companions look relaxed, lying down quietly while chewing treats in their blanket-lined kennels, equipped with a water dispenser.
A few days ago, the four dogs were in a crowded shelter alongside thousands of other rescued street dogs. But now they are about to start a 20-hour, 13,000-kilometre journey to the western United States.
A photo provided by Phuket-based Soi Dog Foundation shows hundreds of street dogs in cages on a truck them to be sold for meat in Vietnam. They were rescued and transferred to a shelter in Buriram, Thailand.
"These dogs have better chances of finding owners abroad than in Thailand," says Emily Bernie, the founder of California-based Life Animal Rescue, who is accompanying the canines on their flight.
Each year, her organization finds homes in the US for about 50 dogs from Thailand.
"I used to work with local shelters in California but the situation there has improved significantly so I'm reaching out to other countries like Thailand," says Bernie.
Emily Bernie (R) and Todd LaBate (L) getting four dogs ready for their flight to Los Angeles, California at Suvarnabhumi Airport in Bangkok, Thailand.
Rocket and his friends are part of a special project to take dogs to a shelter overseas to await possible adoption. In most cases, dogs in Thai shelters are first adopted by a foreign owner before being transported to their new home abroad.
About 700 dogs are adopted internationally each year, according to an estimate by James Reynolds, a Bangkok-based volunteer who works as a kind of fixer for stray dogs: transporting them from the shelters to the Thai capital; arranging paperwork and vaccinations; and finally seeing them safely onto the plane.
Foreign adoptions, mainly by owners in Europe and the US, are more common than local adoptions.
Foreigners seem to be more aware and willing to take in rescued dogs, Christy Baker of Phuket-based Soi Dog Foundation observes. Around 85 per cent of all adoptions at South-East Asia's largest private animal rescue organization come from foreign countries.
"I fell in love with Noshi right away when I saw him," says Katharina Tesch, recounting her experience of meeting the puppy in 2014 at a shelter on the southern resort island of Phuket.
"He was so tiny and wrinkly but also very cute," the 24-year-old marketing student from Germany says of her one-year-old dog.
Noshi was rescued from the streets when he was a few days old along with his six siblings. Their mother died after being poisoned – a common, although illegal, method local people use to kill unwanted street dogs.
Noshi is now set for celebrity, as his image will soon adorn the packaging of a German brand of dog food.
The whole adoption process from Thailand takes an average of three months and transportation costs range from 300 dollars to more than 1,000.
Private organizations, like Life or Soi Dog, usually help cover costs through money donated to them.
The donations also go toward sterilization programmes to curb dog populations in Thailand. Soi Dog has spayed and neutered about 80 per cent of street dogs on the southern resort island of Phuket.
It is estimated that more than 720,000 dogs roam the streets in Thailand, and the number is rising annually, according to the Department of Livestock Development.
Shelters teem with dogs that are disabled or unhealthy, or were abandoned by owners or rescued from the dog-meat trade.
Euthanasia is not practiced in Buddhist-majority Thailand, where killing other beings is a cultural taboo, so these dogs stay in the shelters until they die or are adopted.
Story By Siraphob Thanthong-Knight, dpa
To reach us about this article or another matter, please contact us by e-mail at: [email protected].
Follow Khaosod English on
and
Twitter
for news, politics and more from Thailand.