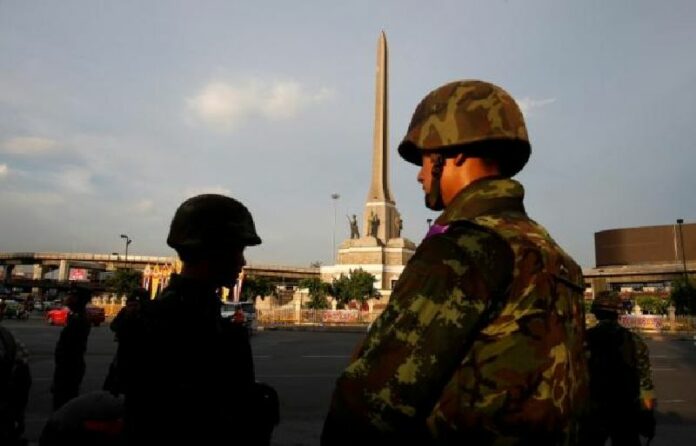 By Amy Sawitta Lefevre
Reuters
BANGKOK — A proposal by Thailand's junta for a provision in the constitution exempting the military from prosecution would allow the armed forces to commit abuses with impunity, a rights group said on Wednesday.
The junta, known as the National Council for Peace and Order, has suggested the inclusion of a section that says if military force is "carried out with honest intention" in the interest of national security, then military personnel should be exempt from prosecution.
"A blanket immunity clause in Thailand's new constitution would allow the military to commit abuses without fear of prosecution," said Brad Adams, Asia director at Human Rights Watch.
"Given the Thai military's long record of human rights abuses, this would effectively be giving soldiers a license to kill."
The junta took power in a May 2014 military coup and a committee was appointed to draft a constitution after the previous one was torn up.
But the draft was rejected in September because of contentious points including a proposal for a national reform committee dominated by the military that allows security forces to intervene in a crisis.
A new committee is working on another draft.
Since taking power, the junta has issued directives that have largely stifled dissent including barring political discussions and debate. The military has been accused by rights groups of abuses including the detention of opposition politicians, activists and some journalists in the weeks following the 2014 coup at secret military facilities. They were later released.
It has also set up military courts to handle national security cases. The military has defended its actions as necessary to re-establish order.
The coup was the latest episode in a decade of conflict which has broadly pitted the Bangkok-based middle class and traditional establishment, dominated by the royalist military, against supporters of ousted former Prime Minister Thaksin Shinawatra and his sister, former Prime Minister Yingluck Shinawatra.
The army toppled Thaksin in 2006. Yingluck was removed from power in May 2014 after a court found her guilty of abuse of power. Days later, the army staged a coup after months of sometimes violent street protests in Bangkok aimed at ousting her government.
Scores were killed in a bloody 2010 crackdown by the army on thousands of pro-Shinawatra "Redshirt" protesters.
No soldier has been legally held accountable for deaths or injuries during that crackdown, Human Rights Watch said in its statement, and commanders who gave "unlawful orders to fire" have not been held to account.