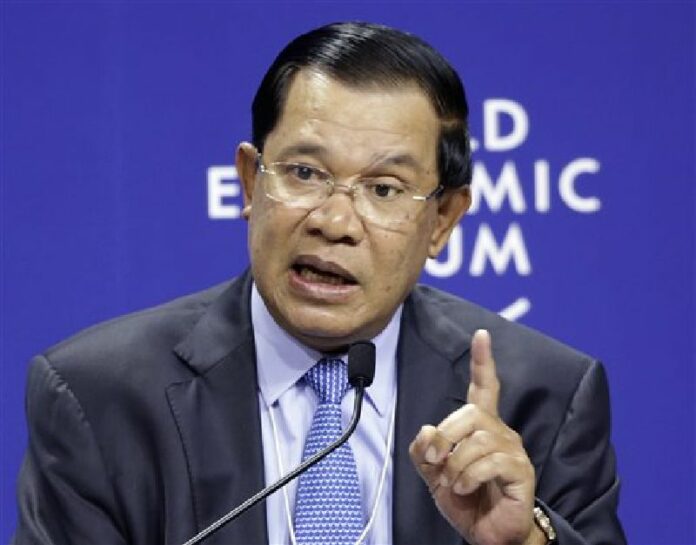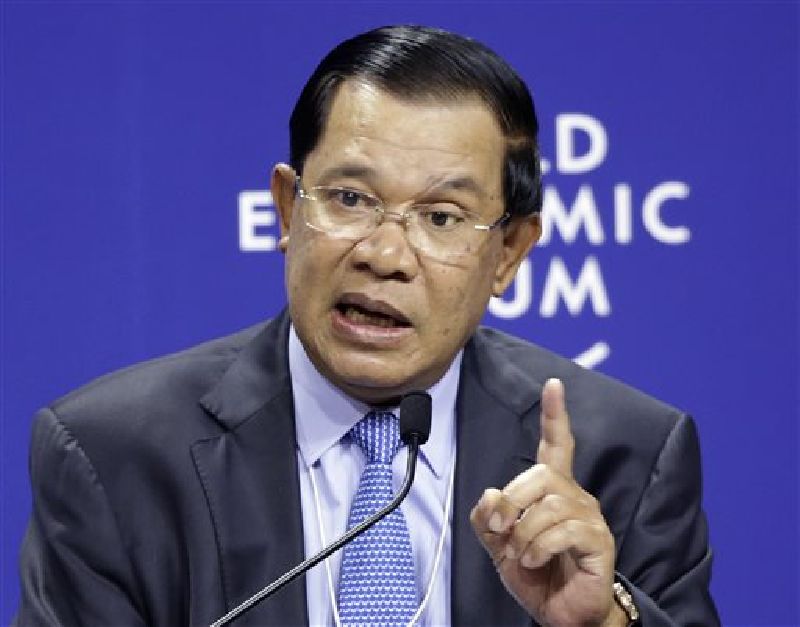 PHNOM PENH — Cambodia's leader responded angrily Monday to the opposition's threat to hold nationwide demonstrations, saying such protests could sink any chances of resolving political differences through negotiations.
Prime Minister Hun Sen said in a speech to graduating students that the opposition Cambodia National Rescue Party should speak politely and make a positive gesture if they want to ease tensions.
"To be clear about that, don't threaten to stage a demonstration for the reason of seeking to resume negotiations. That is no way," Hun Sen said. "I would be a dog if I were to negotiate (with you)."
He said the opposition should be speaking out in parliament, whose sessions it has stopped attending in protest at the ruling Cambodian People's Party majority voting to lift the parliamentary immunity of its leaders, a move the opposition considers illegal.
The opposition complains of being harassed by politically influenced courts, after legal cases have forced party leader Sam Rainsy to stay in exile to avoid jail and his deputy Kem Sokha to take refuge behind supporters at party headquarters, where state security forces have gathered in armed shows of strength.
Critics of the government have seen its actions as an attempt to disrupt the opposition's organizing efforts ahead of local elections next June. The next general election is not until mid-2018, but holding power at the local level is an advantage when national polls are held. Hun Sen has led Cambodia for three decades.
In response to the government actions, Kem Sokha said last week that the party is considering calling for nationwide protests. The opposition has strong support in the capital, and street demonstrations have traditionally been an effective form of push-back, but recent efforts to take to the streets have generally fizzled.
Hun Sen said that if talks were resumed with the opposition, the topics would exclude the legal cases of opposition members. He and his government insist these are criminal matters and not political issues.
A statement issued earlier this month by the U.N. High Commissioner for Human Rights expressed concern "about the escalating atmosphere of intimidation of opposition politicians, their supporters, civil society, and peaceful demonstrators inCambodia." A joint statement issued by several foreign embassies expressed similar concern.
Activists and non-governmental organizations, which are generally critical of the government, have faced similar legal pressures. The murder in July of a prominent social critic, Kem Ley, allegedly by a man to whom he owed money, is widely regarded with suspicion.
On Monday, four prominent land activists were convicted and sentenced to six months each in prison for a protest they held five years ago.
The four women – Tep Vanny, Heng Mom, Bou Chhovy and Kong Chantha – are well known for protesting the eviction of residents from Phnom Penh's Boeung Kak lake community, which was to be turned into a luxury commercial development. They were convicted of insulting and obstructing civil servants.
The Boeung Kak protesters are among the most tireless of the government's critics.
Story: Sopheng Cheang