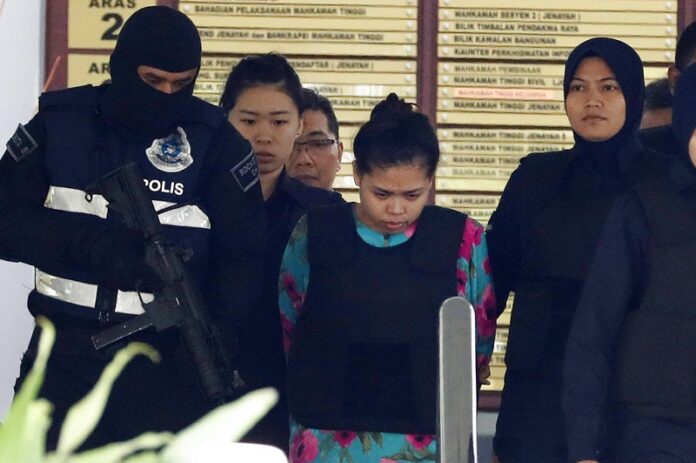 SHAH ALAM, Malaysia — Prosecutors asked a Malaysian court Wednesday to restore expunged details in the post-mortem report into the poisoning death of the estranged half brother of North Korea's leader.
The report had been presented as evidence Tuesday at the murder trial of the two women accused of smearing VX nerve agent on Kim Jong Nam's face in a brazen assassination at Kuala Lumpur's airport in February. The High Court had agreed on the removal of the case history and clinical history sections of the report after defense lawyers argued the content was based on hearsay.
The court also said the first two sentences in the summary and conclusion were inadmissible, in a ruling agreed to by prosecutors. But prosecutor Wah Shaharuddin Wan Ladin told the court Wednesday his concession was premature.
He said the information in the history section was based on interviews done by one of two pathologists who wrote the report with a policeman, the airport clinic doctor and a hospital doctor. He said the information would not be hearsay or prejudicial since prosecutors will call the pathologist, the policeman and the doctors to the witness stand during the trial. The airport clinic doctor testified earlier this week in the trial that started Monday.
Hisyam Teh Poh Teik, lawyer for Vietnamese suspect Doan Thi Huong, slammed the "complete U-turn" by prosecutors and said it was unacceptable as the court has ruled already.
The court took a short break Wednesday morning to consider the prosecution request.
On Tuesday, the court heard pathologists and doctors establish the cause of death for Kim. Doctors testified that Kim arrived at the airport clinic in pain with very high blood pressure and pulse, his vital signs deteriorated sharply and he was dead on arrival at the hospital. Pathologists testified that Kim had been fatally poisoned by VX, a banned chemical weapon that was present on his face and clothing and internally in his blood and urine.
Huong and the second suspect, Siti Aisyah of Indonesia, have pleaded not guilty to murder, a charge for which they could face the death penalty if convicted. They have said they believed they were playing a harmless prank for a hidden-camera TV show and were tricked by men suspected of being North Korean agents.
Story: Eileen Ng