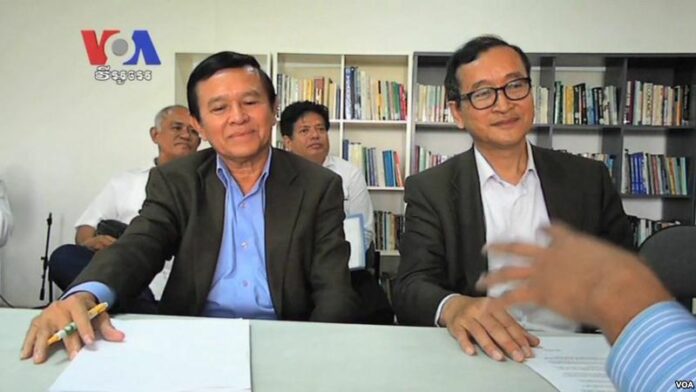 PHNOM PENH — Cambodia's government on Friday took initial legal steps to dissolve the country's main opposition party, the latest in a series of moves to gain an advantage ahead of next year's general election.
Interior Ministry spokesman Khieu Sopheak said the ministry filed a lawsuit with the Supreme Court asking for the Cambodia National Rescue Party to be dissolved on the grounds that it was involved in a plot to topple the government.
The court is likely to uphold the complaint, since the country's court system is widely considered to be under the political influence of the government of Prime Minister Hun Sen.
"This is a strongman's coup d'etat, with Hun Sen shamelessly transforming himself into a dictator for the whole world to see," said Phil Robertson, deputy Asia director for Human Rights Watch.
The CNRP is the only party aside from the ruling Cambodian People's Party with representatives in parliament, and no third party comes close in terms of popularity and support. The CNRP posed an unexpectedly strong challenge in 2013's general election and the government has since taken steps to tighten its grip on power.
Khieu Sopheak said the government had received "21 pieces of concrete evidence to prove that the opposition party has intentionally sought to topple the government through a 'color revolution.'" Hun Sen and his supporters have repeatedly warned that the type of pro-democracy popular movements that arose in the former Soviet Union and the Balkans in the early 2000s would cause chaos in Cambodia.
The CNRP has denied seeking to unlawfully or violently overthrow the government, saying the charge is politically motivated.
If the Supreme Court finds the opposition party guilty of violating the Political Party Law, not only would it be dissolved, but its leaders would be banned from involvement in politics for five years.
The ministry acted after it received complaints from two parties with no lawmakers in parliament that are generally believed to have been acting at the government's behest.
CNRP leader Kem Sokha was charged last month with treason for allegedly working with the United States to stage a "color revolution" to oust Hun Sen, who has held power for more than three decades.
His arrest has sharply escalated political tensions and raised questions over whether the upcoming elections could be free and fair.
"With this move, Prime Minister Hun Sen and the ruling CPP are killing Cambodian democracy by turning the July 2018 election into a bad joke," Robertson said. "The government's narrative that the opposition CNRP is leading a 'color revolution' is yet another dimension of the politically motivated lie used to justify a crackdown on anyone who dares make critical comments about the government."
Although he is being detained pending trial, a message posted on Kem Sokha's Facebook page reacted to Friday's move by the government, saying that: "No other power can overcome the power of the will of the people. May the Cambodian compatriots unite in demanding justice for all Cambodians."
Other opposition politicians were keeping a low profile and could not immediately be contacted.
The charge against Kem Sokha was based on videos from several years ago that showed him at a seminar where he spoke about receiving advice from U.S. pro-democracy groups. He could face up to 30 years in prison.
Kem Sokha had been expected to lead the CNRP in next year's election in a strong challenge against the ruling party.
In nationwide local elections in June, Hun Sen's Cambodian People's Party won most constituencies but received a weak majority of the popular vote, while the opposition party made gains.
In the past month, Hun Sen and his party have accelerated the use of legal and administrative measures to undermine critics and political foes.
After Kem Sokha's arrest last month, Hun Sen warned that the CNRP was at risk of being dissolved.
"If this party continues to protect and defend this traitor, it means this party is also involved in treasonous acts and there is no need to allow this party to exist in our democratic society," Hun Sen said in a speech. He said it did not matter if one party was dissolved because many other parties would take part in the election.
In other recent moves tightening the grip of his government, an independent English-language newspaper, The Cambodia Daily, was shut down after being accused of not paying a huge tax bill – an assessment it strongly disputed. More than a dozen radio stations that broadcast dissident voices or used programming from the U.S. government-funded Voice of America and Radio Free Asia were forced to stop broadcasting for alleged breach of regulations.
Story: Sopheng Cheang