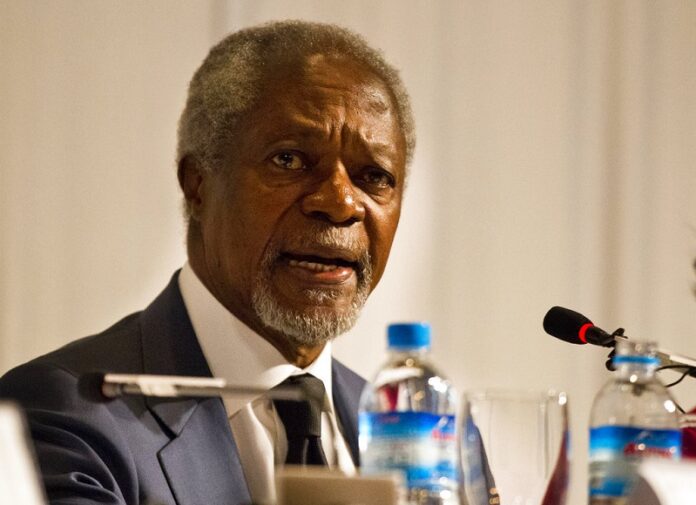 UNITED NATIONS — Former U.N. Secretary-General Kofi Annan urged Myanmar on Friday to make sure the half-million Rohingya Muslim refugees who have fled in the last two months can go home, and not go to camps.
Myanmar's government needs to "create conditions that will allow the refugees to return with dignity and with a sense of security" and help them rebuild in violence-wracked Rakhine state, said Annan, who recently headed a commission on the crisis there.
"They should not be returned to camps," he said after addressing an informal, private Security Council meeting on the issue. "They need assistance to get their homes back."
Myanmar's U.N. mission didn't respond to a request for comment on Friday's session. The country's leader, Aung San Suu Kyi, said Thursday that she had created a committee to oversee all international and local assistance in Rakhine and that the impoverished state needs development.
Roughly 1 million Rohingya make up a long-persecuted minority in the Southeast Asian country. The Buddhist majority regards them as having migrated illegally from Bangladesh, although many Rohingya families have lived in Myanmar for generations. They were stripped of their citizenship in 1982.
After earlier waves of Rohingya flight, about 120,000 live in camps outside Rakhine's capital, Sittwe.
In an unprecedented exodus, more than 500,000 Rohingya have fled from Rakhine to neighboring Bangladesh since Aug. 25, when security forces clamped down after the latest in a series of attacks on police posts by a Rohingya militant group. Many houses were burned in the crackdown, and Rohingya refugees have described rape, looting and abuse.
The U.N. and some countries have called the events "ethnic cleansing," which Myanmar's government denies. It has blamed the crisis on terrorism.
The August attacks came a day after the Annan-led commission released its report, which called for economic development and social justice to counter the deadly violence.
The Security Council has repeatedly discussed Myanmar recently, but views have been divided among the veto-wielding members. At a meeting late last month, Britain, France and the U.S. demanded an end to what they called ethnic cleansing, while China's ambassador called for patience. Russia's envoy warned that "excessive pressure" could only worsen the problems.
Friday's meeting was "particularly useful and helpful to build consensus" on two goals: supporting the recommendations of Annan's commission and denouncing "the totally inacceptable status quo," French Ambassador Francois Delattre said. He co-chaired the session with British envoy Matthew Rycroft.
Asked whether sanctions or another resolution could ensue, Rycroft said he hoped to "carry on working in a spirit of bringing everyone together."
"And we will explore whether there is the appetite to do more," he added.
The Chinese and Russian U.N. missions didn't respond to requests for comment.
Story: Jennifer Peltz