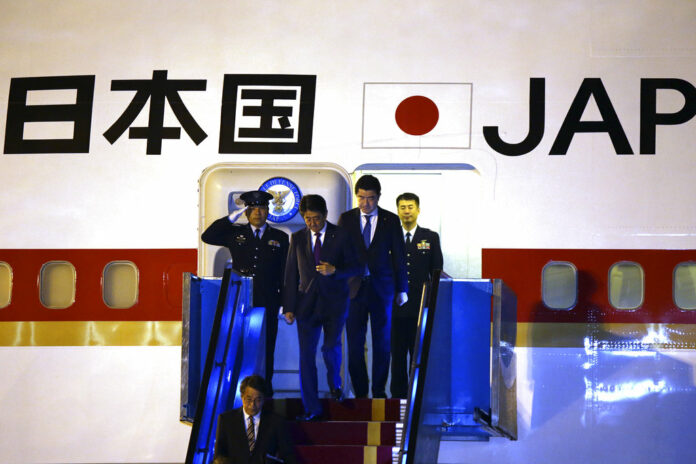 DANANG, Vietnam — The Pacific Rim trade pact abandoned by President Donald Trump remains in limbo, judging from differing reports on the status of Cabinet level talks on pushing ahead without the United States.
Japan's minister on reviving the economy, Toshimitsu Motegi, told reporters that a revised Trans-Pacific Partnership deal was reached late Thursday. Leaders from New Zealand and Australia said the discussions were continuing.
There is "still more work to do, but we're inching closer," said Australia's trade minister, Steve Ciobo.
The 11 remaining members of the TPP are trying to find a way forward without the U.S., the biggest economy and before Trump took office one of its most assertive supporters.
The negotiations are being held in Danang, Vietnam, alongside meetings of the 21-member Asia-Pacific Economic Cooperation forum, where Trump's markedly different stance from past U.S. leaders was being felt even before his arrival Friday in the coastal resort city.
While most APEC members say they remain committed to their multi-country approach in weaving their economies ever closer together, many acknowledge that open trade is a mixed bag: Not everyone benefits equally.
Trump is seeking to renegotiate several major trade agreements, most notably the North American Free Trade Agreement, to, he says, put "America First."
Philippine President Rodrigo Duterte told a business conference on the APEC sidelines that he believed Trump was pushing back because America was the first victim of globalization.
China's decision to open its markets to the world under leader Deng Xiaoping attracted U.S. businesses eager to take advantage of the country's low-cost environment. "And that is why Trump is trying to roll it back and say America First," Duterte said.
Trade and foreign ministers of 11 members of the Trans-Pacific Partnership hope to agree in principle on a way forward without the U.S. after Trump pulled out earlier this year.
New Zealand Minister for Trade and Export Growth David Parker said the TPP talks being held at the ministerial level were more likely to progress if few changes are made to the original accord.
"The more the changes, the harder it may be to form a consensus," Parker said in an interview on Thursday. "There is good will. There is a desire to make progress."
But Parker said it was still uncertain if talks among the TPP leaders themselves, scheduled for later Friday, would be held as planned.
Japan likewise is eager to see the talks succeed, Prime Minister Shinzo Abe told reporters before leaving Tokyo for Danang.
"We will do our utmost so that we can reach a basic agreement," Abe said.
The U.S. pushback on "free trade," evidenced in Trump's "America First" policy, has raised eyebrows in the region after decades of U.S. pressure on opening markets.
While APEC operates by consensus and customarily issues nonbinding statements, TPP commitments would eventually be ratified and enforced by its members.
But even talks this week on a declaration to cap this week's APEC summit had to be extended for an extra half-day as ministers haggled over wording. It's unclear what the exact sticking points were, but officials have alluded to differences over the unequal impact more open trade has had on workers and concerns over automation in manufacturing that could leave many millions in a wide array of industries with no work to do.
"There is a new trend of protectionism that reflects new aspects of globalization," Vietnamese trade minister Tran Tuan Anh said.
But Anh said the group eventually managed to bridge their differences.
As a developing country with a fast-growing export sector, Vietnam has a strong interest in open trade and access for its exports to consumers in the West. The summit is an occasion for its leaders to showcase the progress its economy has made thanks largely to foreign investment and trade. Danang, Vietnam's third largest city, is in the midst of a construction boom as dozens of resorts and smaller hotels pop up along its scenic coastline.
But even though its economy grew at a brisk 6.2 percent pace last year, Vietnam's GDP per capita is still one of the lowest among APEC members at less than $2,200. Many of its 95 million people remain poor and vulnerable to natural disasters such as storms that lashed the coast near Danang just days before the APEC meetings.
The Philippines, likewise, is counting on gaining more open access to other APEC economies, Duterte said.
"The rich will become richer and the poor will become poorer unless things change for those who are left behind," he told the business conference.
"APEC will only be relevant if prosperity is shared by all," he said. "Charities is not what less developed economies need. What they need is more market access and the opportunity to participate."
APEC's members are Australia, Brunei, Canada, Chile, China, Hong Kong, Indonesia, Japan, South Korea, Malaysia, Mexico, New Zealand, Papua New Guinea, Peru, Philippines, Russia, Singapore, Taiwan, Thailand, the U.S. and Vietnam.
By Tran Van Minh, Elaine Kurtenbach