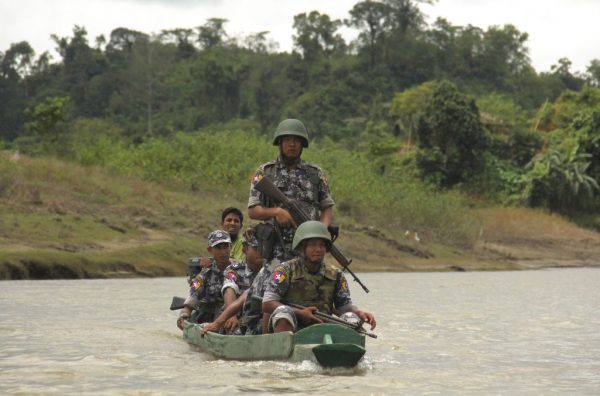 NAYPYITAW, Myanmar — Myanmar's military issued its most forceful denial yet that security forces committed atrocities during "clearance operations" in the west of the country, saying an internal investigation had absolved them of any wrongdoing in a crisis that has triggered the largest refugee exodus in Asia in decades.
The report contradicts consistent statements from ethnic Rohingya Muslim refugees now in Bangladesh – some with gunshot wounds and severe burns – who have described massacres, rape, looting and the burning of hundreds of villages by Myanmar's army and civilian mobs.
The U.N. humanitarian office said Tuesday that the number of Rohingya who have fled Myanmar to Bangladesh since Aug. 25 has risen to 618,000.
In a statement issued late Monday, the military said it had interviewed thousands of people during a monthlong investigation into the conduct of troops in western Rakhine state after Rohingya insurgents launched a series of deadly attacks there on Aug. 25.
While the report acknowledged that battles against militants from the Arakan Rohingya Salvation Army, or ARSA, had left 376 "terrorists" dead, it also claimed security forces had "never shot at the innocent Bengalis" and "there was no death of innocent people."
Myanmar's government and most of the Buddhist majority say the members of the Muslim minority are "Bengalis" who migrated illegally from Bangladesh and do not acknowledge the Rohingya as a local ethnic group even though they have lived in Myanmar, also known as Burma, for generations.
New York-based Human Rights Watch said the military's latest claims were "contrary to a large and growing body of evidence" documenting severe rights abuses in Myanmar.
"The Burmese military's absurd effort to absolve itself of mass atrocities underscores why an independent international investigation is needed to establish the facts and identify those responsible," said Brad Adams, Asia director at Human Rights Watch. "The Burmese authorities have once again shown that they can't and won't credibly investigate themselves."
The military said the investigation – which was led by Lt. Gen. Aye Win, inspector-general of the defense forces – showed that security forces did not use excessive force and abided by the army's rules of engagement.
Myanmar's government does not allow independent journalists to travel freely to the parts of Rakhine state where most of the latest violence has taken place.
The report comes just ahead of an expected visit Wednesday by U.S. Secretary of State Rex Tillerson, who is to hold talks with senior officials on the crisis.
On Tuesday in Naypyitaw, the capital, Myanmar authorities began the first of five days of talks with Bangladesh border guard officials to discuss how to resolve the refugee crisis and other issues along their common frontier.
The U.N. migration agency reports that human trafficking and exploitation are rife among Rohingya who have fled to Bangladesh, not only recently but in past years, U.N. spokesman Stephane Dujarric told reporters at U.N. headquarters in New York.
The International Organization for Migration reports that "desperate refugees are being recruited with false offers of paid work and … are willing to take whatever opportunities they are presented with, even risky, dangerous ones that involve their children," Dujarric said.
The migration agency is also concerned about forced and early marriages among the Rohingya, he said.
Story: Esther Htusan