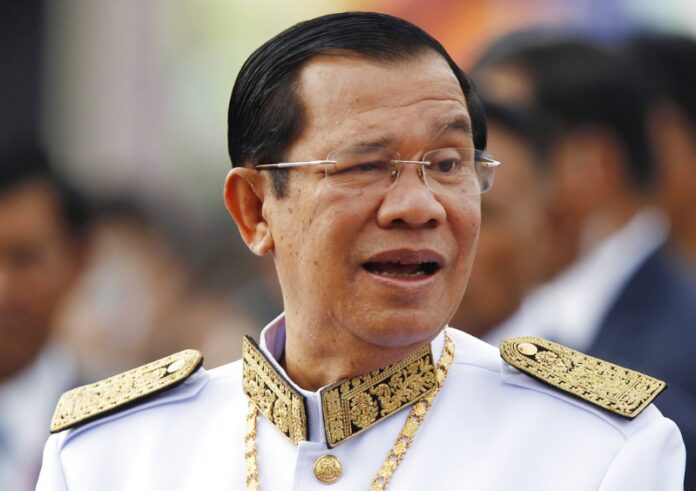 WASHINGTON — An exiled leader of Cambodia's political opposition said Thursday the international community should cut ties with Prime Minister Hun Sen's government after the court-ordered dissolution of the only party challenging his three-decade grip on power.
Sam Rainsy told The Associated Press that the Supreme Court ruling was the death knell of democracy and presented a credibility test to world powers that had sponsored a 1991 peace accord in the Southeast Asian nation, which committed them to supporting an open political system there.
He called for governments to drop their recognition of the prime minister and "delegitimize the Hun Sen regime."
Rainsy used to lead the Cambodia National Rescue Party but went into exile last year because of the threat of prison in legal cases against him that are widely regarded as politically motivated. He and a half-dozen CNRP lawmakers are in Washington to lobby U.S. lawmakers and State Department officials.
Rainsy urged the Trump administration to pay more attention to Cambodia and impose targeted sanctions on senior Cambodian officials — although not broader economic restrictions that could hurt Cambodia's 15 million people.
"The international community must not do business as usual with Hun Sen following his very undemocratic and shocking move to dissolve the only opposition party," Rainsy said in an interview. "It is a matter of credibility for the international community following Hun Sen's violation of an important international treaty."
The White House released a statement Thursday night expressing "grave concern" and promising to "take concrete steps to respond to the Cambodian government's deeply regrettable actions."
White House Press Secretary Sarah Huckabee Sanders said: "As a first step, we will terminate support for the Cambodian National Election Committee and its administration of the upcoming 2018 national election. On current course next year's election will not be legitimate, free or fair."
The United States and 18 other governments signed the 1991 Paris Peace Accords, which ushered in democracy after the genocidal rule of the Khmer Rouge regime in the late 1970s, then occupation by Vietnam and civil war.
Thursday's court verdict, read by a judge who is member of the ruling party, came amid an intense push by Hun Sen's government to neutralize political opponents and silence critics ahead of July 2018 elections.
There was no immediate reaction by the U.S. administration. American influence has been waning for years as Cambodia edges closer to China, which has supported Hun Sen's efforts to "protect national security and stability."
In Congress, Republican Sen. John McCain called for the administration quickly to sanction all senior Cambodian government officials responsible for violating human rights and subverting freedom. Republican Rep. Steve Chabot, co-chairman of the House Cambodia caucus, said Cambodian elections next year would be a "sham."
Current opposition leader, Kem Sokha, has been imprisoned since September, charged with trying to topple the government with U.S. support, which Washington has said is a baseless accusation.
"When you put your principal opponent in jail and half the elected officials in the opposition have to flee the country for their own safety, you have basically disqualified yourself from being a legitimate leader," Chabot said of Hun Sen.
Rainsy said CNRP would continue to operate as a party that represents "the will of the people."
"We will do our best to channel the popular discontent, the popular frustration, into a peaceful, continuous fight for democratic change," he said, voicing confidence that "the international community will not allow Hun Sen to kill democracy in Cambodia."
Hun Sen has been prime minister since 1985 and has held a tight grip on power since ousting a co-prime minister in a bloody 1997 coup.
The CNRP captured nearly half the seats in the last national elections in 2013.
Story: Matthew Pennington