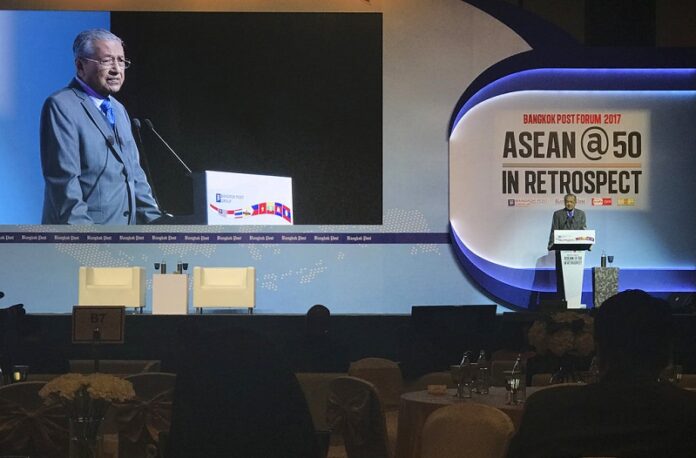 BANGKOK — The man who led Malaysia through the final two decades of the 20th century and has waded back into its politics in recent months said Thursday the country's current government is deeply problematic and "must go."
"We are facing a lot of difficulties with a government that ignores the rule of law," Mahathir Mohamad told an audience in Bangkok at a forum about Southeast Asia.
"These kinds of people must go," he said of current Prime Minister Najib Razak's government, which has held onto power through a huge corruption scandal.
Mahathir, now 92, was Malaysia's prime minister from 1991 until 2003. Today, he has emerged as an unlikely rallying point for an opposition coalition stocked with people who once despised him. He has recently taken a strong stance against Najib's government, saying his one-time protege is corrupt and has elbowed Malaysia backward instead of propelling it forward.
"I'm working with the very people who used to call me 'dictator' and other nasty things," Mahathir said. He has insisted he does not want to become prime minister again and is said to be considering running for a parliamentary seat.
The opposition coalition tried to go after Najib over an international financial scandal that involved a state fund he created when he came to power in 2009. The so-called 1MDB fund is being investigated in the United States and several other countries. The U.S. Justice Department has said at least $4.5 billion is believed to have been misappropriated from the fund.
Najib has denied any wrongdoing. The coalition has targeted him in a number of ways, trying to engineer a no-confidence vote, asking for the intervention of the country's king and trying to get police involved. Each effort fell short.
"Now we have to wait for elections," Mahathir said. "We hope the elections will be fair and just, but we have worries about it."
General elections in Malaysia must be held by August 2018.
In recent days, two Malaysian newspapers linked to the government have run stories about Mahathir's granddaughter, Meera Alyana Mukhriz, and chronicled what they call her lavish lifestyle. The coverage is widely perceived as a shot at the former premier.
Asked about it, he seemed unfazed.
"You can publish the picture of my granddaughter on a yacht," he said, then quipped, "It was a small yacht anyway."
Mahathir was in Bangkok speaking at a forum called "[email protected]: In Retrospect," which looked back on the past half century of the Southeast Asian economic and security alliance. The forum was sponsored by The Bangkok Post.
In remarks to the forum, Mahathir reflected on ASEAN's history and its penchant for helping Southeast Asian nations develop economically but, more importantly, avoid conflict with each other. He attributed that ability to a diplomatic politesse rooted in the group's leaders, who he said know how to deal with contentious issues without being too pointed.
"You couch your words in a way that doesn't raise the hackles of another leader. You place constraints on yourself by being polite," he said. "Developing an almost club-like atmosphere is very important."
But he lamented the loss of a tradition – that longtime regional leaders really got to understand each other. Heads of state and government now pass across the stage so fast, he said, that it's hard to build relationships as he did with fellow Southeast Asian leaders like Singapore's Lee Kuan Yew and Indonesia's Suharto.
"We knew each other very well. We were friends," Mahathir said. "Now, every time you have a meeting of ASEAN, you see different faces. One term is not enough to develop good friendships."
Story: Ted Anthony