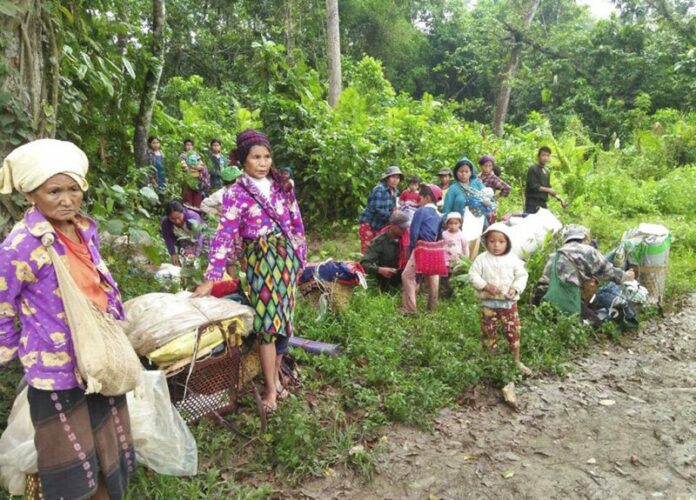 BANGKOK — A United Nations rights expert expressed grave concern Tuesday over reports that Myanmar's military has used heavy weapons and conducted aerial bombings in civilian areas as fighting against ethnic rebels in northern Kachin state has escalated sharply.
While the world focuses on the plight of Myanmar's Rohingya Muslims, a civil war has flared against the Kachin Independence Army, with thousands of civilians displaced from their villages near the Chinese border, according to the United Nations.
The U.N. special rapporteur on the situation of human rights in Myanmar, Yanghee Lee, said the situation in Kachin state "is wholly unacceptable, and must stop immediately."
#Kachin #Myanmar: More than 5,000 people newly displaced by clashes between Myanmar Military and Kachin Independence Army (KIA). There are reports of civilians that are unable to leave conflict-affected areas in Tanai, Hpakant and Injingyang townships. https://t.co/Isotfzfo2c pic.twitter.com/1VnBXRfhCo

— OCHA Myanmar (@ochamyanmar) April 30, 2018
"Civilians must never be subjected to violence during the course of conflict," she said in a statement. "All parties must take all necessary measures to ensure their safety and security."
The Kachin, who are mostly Christian, have fought for greater autonomy in the predominantly Buddhist nation since 1961. Their campaign is part of a much broader struggle for power pitting the ethnic Burman majority — who control the all-powerful military and top government posts — against dozens of ethnic minorities.
Among them are Rohingya Muslims in the west, nearly 700,000 of whom have fled to neighboring Bangladesh since last August to escape military violence.
In Kachin state, aid groups said the government and military have dramatically increased restrictions on humanitarian assistance to more than 100,000 displaced people and to thousands of civilians who have newly fled their homes. The government has denied most access for the United Nations and other international humanitarian groups, they said.
"We have been repeatedly asking the authorities to let us help the civilians who are affected by the fighting and in need," said Gum Sha Awng of the Joint Strategy Team for Humanitarian Response, a coalition of civic groups in Kachin state. "They are violating international humanitarian laws by not allowing us to go and help the civilians."
Lee said she has received reports that a Red Cross food convoy was blocked on April 23 from entering Man Wai village, where more than a hundred civilians were trapped for three weeks with little access to food or medicine.
She urged both sides to abide by international humanitarian law.
"All parties to the conflict must allow the passage of humanitarian assistance," Lee said. "Any willful impediment of relief supplies may amount to war crimes under international law."
More than 4,000 Kachin civilians marched through the state capital, Myitkyina, on Monday to demand safety for civilians affected by the fighting and access to humanitarian assistance.