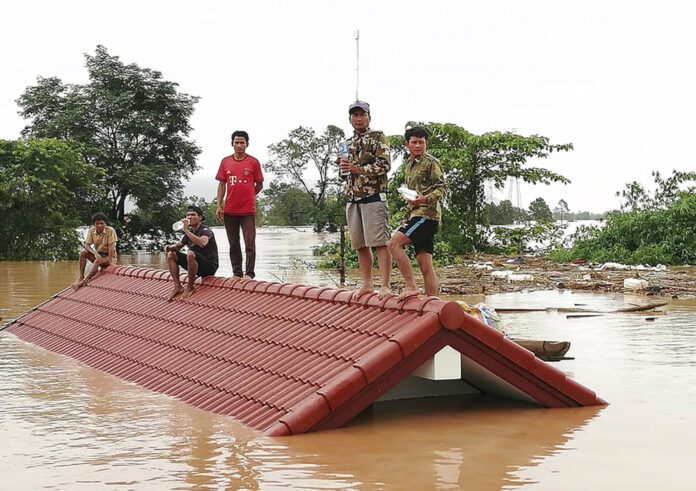 BANGKOK — Massive flooding from a South Korean-constructed hydroelectric dam in Laos left several people dead and hundreds missing, state media said Tuesday. Rescue efforts were underway as top government officials rushed to the site and public appeals were launched for aid.
The official Lao news agency KPL said part of the Xepian-Xe Nam Noy hydropower dam in southeastern Attapeu province collapsed Monday evening, releasing large amounts of water that swept away houses, flooded villages and made more than 6,600 people homeless.
The website of the state-run Vientiane Times newspaper said two people were confirmed dead as of Tuesday afternoon and the government had declared the area an emergency disaster zone. It said continued rain and strong winds predicted for the next few days could make the situation worse.
KPL said the disaster "left hundreds of people missing," without providing details.
Many areas of Laos have recently been hit by floods from heavy seasonal rains.
The dam was built by a joint venture led by two South Korean companies with Thai and Lao partners, and was still under construction.
SK Engineering & Construction, one of the two South Korean partners, said in a statement that "part of the upper area" of one of five auxiliary dams at the project "got swept away" Sunday night after several days of heavy rain. It said the auxiliary dam consisted mainly of earth and rock.
SK E&C said repair work was hampered by heavy rain, and damage to the dam worsened on Monday, causing water to overflow and flood seven out of 12 villages in the area. The company said it joined rescue efforts and was trying to contain further damage.
Photos and videos posted on social media showed people sitting on rooftops to escape the surging water, while others were carried to safety or rescued by boat. State media said helicopters were also being used to rescue people.
Prime Minister Thongloun Sisoulith suspended his government's planned Cabinet meeting and traveled with fellow ministers and other senior officials to Sanamxay district to monitor rescue and relief efforts, KPL and the Vientiane Times reported.
Provincial authorities issued a call for emergency aid – clothing, food, drinking water, medicine, cash and other items – from the "party, government organizations, business community, officials, police and military forces and people of all strata."
Laos is one of the poorest countries in Asia. It has transitioned from communism to a market economy but remains a single-party state where freedoms are limited. There is virtually no freedom of the press, and foreign reporters who visit operate under tight restrictions, limiting the flow of information.
Electricity from several hydroelectric dams provides a large share of Laos' export earnings, with Thailand being a major buyer.
KPL said the Xepian-Xe Nam Noy project cost an estimated USD$1.02 billion. Much of the financing came from Thai lenders.
According to the website of the company that built and runs the dam, it is majority-owned by SK E&C and Korea Western Power. The Ratchaburi Electricity Generating Holding Public Co. Ltd. of Thailand holds a 25 percent stake and the Lao Holding State Enterprise holds 24 percent.
The dam was built to divert the Houay Makchanh, Xe-Namnoy and Xe-Pian rivers into reservoirs that feed into a 410-megawatt power plant that is due to begin operations in 2019. Only 10 percent of the power generated was to be used locally, with 90 percent exported to Thailand.
Laos is supposed to receive taxes, royalties and other income estimated at $33 billion per year from the dam.
According to project assessment documents, about 30 villages were affected by the project with more than 2,000 people in eight villages resettled. Roughly 10,000 people live in the affected area, with most belonging to ethnic minorities.
The project was supposed to be a cash cow for SK E&C, part of the SK Group, one of South Korea's top three conglomerates whose businesses include SK Hynix, the world's second-largest memory chipmaker, and SK Telecom, South Korea's largest telecoms carrier.
South Korea's Yonhap News agency reported that SK E&C sent its president to Laos and set up an emergency team in Seoul.
Last September, a dam in the northeastern Lao province of Xieng Khouang burst, damaging infrastructure, farm land and water supplies but causing no reported casualties. Officials blamed the rupture on bad construction and heavy rains.
The accident at the 15-MW Nam Ao hydropower dam led to hearings in the country's National Assembly on safety standards at hydropower projects, and promises by the government to inspect such projects and cancel those failing to meet the standards, the Vientiane Times reported.
Story: Elaine Kurtenbach, Youkyung Lee