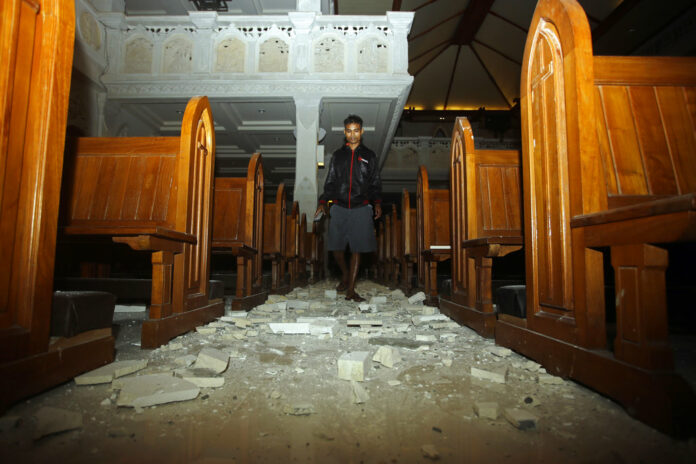 MATARAM, Indonesia — A powerful earthquake struck the Indonesian tourist island of Lombok, killing at least 91 people and shaking neighboring Bali, as authorities said Monday that rescuers still hadn't reached some hard-hit areas and the death toll could climb.
It was the second deadly quake in a week to hit Lombok. A July 29 quake killed 16 people and damaged hundreds of houses, some of which collapsed in Sunday evening's magnitude 7.0 temblor, killing those inside.
Video showed screaming people running in panic from houses in a Bali neighborhood and vehicles rocking. On Lombok, soldiers and other rescuers carried injured people on stretchers and carpets to an evacuation center.
National Disaster Mitigation Agency spokesman Sutopo Purwo Nugroho said the death toll had risen to 82 with hundreds others injured and thousands of homes damaged.
"People panicked and scattered on the streets and buildings and houses that had been damaged by the previous earthquake had become more damaged and collapsed," he said in a statement.
Many victims were treated outdoors because hospitals were damaged in the quake while the nighttime search and rescue effort had been hampered by electricity and communications blackouts.
"The estimate of victims continues to grow," Sutopo said.
The quake, measured at 7.0 magnitude by Indonesian authorities and a still-powerful 6.9 by the U.S. Geological Survey, struck early Sunday evening at a depth of 10.5 kilometers (6 miles) in the northern part of Lombok and triggered a tsunami warning.
Frightened people poured out of their homes to move to higher ground, particularly in North Lombok and Mataram, the capital of West Nusa Tenggara province.
The tsunami warning was lifted after waves just 15 centimeters (6 inches) high were recorded in three villages, said Dwikorita Karnawati, the head of Indonesia's Meteorology, Climatology and Geophysics Agency.
"I was watching TV when I felt a big shake," said Harian, a Lombok woman who gave one name. "The lamp was shaking, and people were shouting 'Get out.' I ran out into the dark because the power cut off."
A total of 65 of the deaths were in North Lombok district, nine in West Lombok district, four in the provincial capital Mataram and two each in Central Lombok and East Lombok districts, Nugroho said.
The Bali and Lombok airports continued operating Sunday night, according to the director general of civil aviation. There had been a half-hour evacuation at the Lombok airport following the quake because the electricity went off. TV showed crying women consoling each other outside Lombok's airport.
Australia's home affairs minister tweeted that he and his delegation were safely evacuated in darkness from a Lombok hotel where they have been staying during a regional security conference.
Home Affairs Minister Peter Dutton told Fairfax Media that he was on the hotel's 12th floor when the quake struck. He said the quake "was powerful enough to put us on the floor" and cut power.
Like Bali, Lombok is known for pristine beaches and mountains. Hotels and other buildings in both locations are not allowed to exceed the height of coconut trees.
Indonesia is prone to earthquakes because of its location on the Pacific "Ring of Fire," an arc of volcanoes and fault lines in the Pacific Basin. In December 2004, a massive magnitude 9.1 earthquake off Sumatra island triggered a tsunami that killed 230,000 people in a dozen countries.
Story: Rod Idin, Stephen Wright