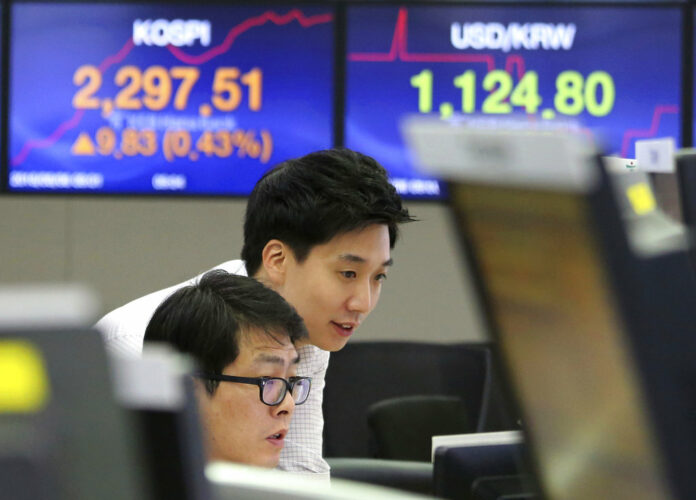 SEOUL, South Korea — Asian stock markets were mixed on Thursday with Chinese stocks outperforming the region, as investors watched the latest developments on trade. Prices of oil stabilized.
Keeping Score
Thailand's SET was trading at 1,725.06 on Thursday morning, a 0.2 percent gain. Japan's Nikkei 225 fell 0.3 percent to 22,584.18 while South Korea's Kospi inched down 0.2 percent to 2,297.62. Hong Kong's Hang Seng index advanced 0.6 percent to 28,533.38. Shanghai Composite Index jumped 1.3 percent to 2,781.06. Australia's S&P-ASX 200 was up 0.5 percent to 6,301.30. Stocks in Taiwan and the Philippines were lower but they were higher in Indonesia and New Zealand.
Analyst's Take
"Looking at the rhetorical battle between the United States and China recently, it may appear that finding a clue to resolve (the trade war) is impossible," said Lee Seunghoon, an analyst at Meritz Securities Co. in Seoul, South Korea. "But rather than prolonging the trade conflicts, such heated rhetorical battle between the U.S. and China will likely lead to a resumption of negotiations before the U.S. midterm elections." Lee said the actual imposition of additional tariffs by the U.S. on Chinese products could be delayed and concerns about higher consumer prices in the U.S. may discourage President Donald Trump's administration from imposing further tariffs.
Trade Spat
The U.S. and China both announced new tariffs. Later this month each country will put a 25 percent tax on USD$16 billion in goods imported from the other. Both countries placed tariffs on $34 billion in imports earlier this month, and they have threatened much larger tariffs to come. The Trump administration plans to tax Chinese industrial products such as steam turbines and iron girders starting Aug. 23. China's government said it will put tariffs on U.S. goods including cars, crude oil and scrap metal starting on the same date.
Wall Street
U.S. stock markets finished lower on Wednesday, ending a four-day winning streak. The S&P 500 index dipped 0.75 points to 2,857.70. The Dow Jones Industrial Average fell 45.16 points, or 0.2 percent, to 25,583.75. The Nasdaq composite rose 4.66 points, or 0.1 percent, to 7,888.33. The Russell 2000 index of smaller stocks lost 1.42 points, or 0.1 percent, to 1,686.88.
Oil
Prices of oil stabilized after a sharp fall in the previous session. Benchmark U.S. crude oil added 11 cents to $67.05 a barrel in electronic trading on the New York Mercantile Exchange. The contract plunged 3.2 percent to finish at $66.94 a barrel on Wednesday. Brent crude, the standard for international oil prices, gained 25 cents to $72.53 per barrel in London. It fell 3.2 percent to $72.28 a barrel in the previous session.
Currencies
The dollar fell to 110.78 yen from 111.02 yen while the euro rose to $1.1615 from $1.1610.
Story: Youkyung Lee