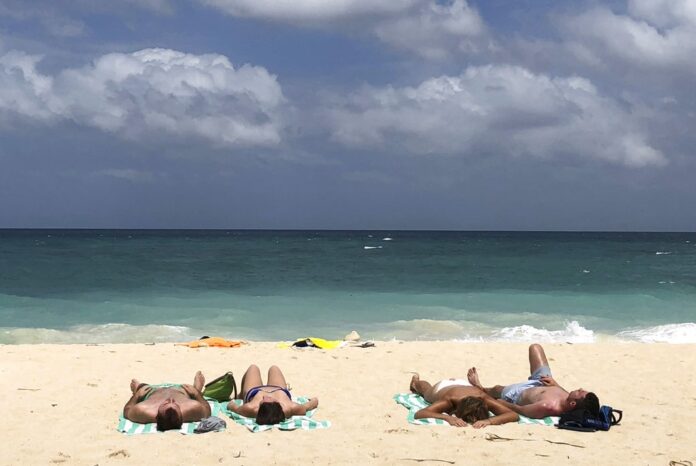 BORACAY, Philippines — Boatloads of tourists sailed to tiny Boracay island Friday on the first day Philippine officials reopened the resort to visitors after a six-month closure to clean waters the president had called a "cesspool" due to overcrowding, partying and neglect.
Officials at the island in central Aklan province have imposed new rules to regulate the influx of visitors and beach parties, decongest resorts and prevent sewage from being discharged directly into the turquoise waters. Only a portion of Boracay's hotels and other businesses have reopened under the new rules, and a fraction of the more than 20,000 workers who lost their jobs were rehired.
"Let us treat the island as our home. Keep it clean and pristine. Don't drink alcohol or smoke in the beach, don't litter," Tourism Secretary Berna Romulo-Puyat said in a message to incoming tourists.
A ceremony attended by Cabinet officials and local celebrities to mark Boracay's return to business was planned on a white-sand beach near the wharf where ferries unloaded tourists.
Visitors will be kept to about 6,000 daily and they'll be asked to sign an oath to follow the new rules, including proper waste disposal and a ban on bonfires.
Only 157 of Boracay's hundreds of hotels, inns, restaurants and souvenir shops have reopened after complying with regulations, including connecting to authorized sewer pipes and maintaining a 30-meter distance from the beach waters.
Gil delos Santos, whose family owns a 10-room inn called Roy's Rendezvous, a travel agency and passenger ferries, welcomed Boracay's reopening. The family businesses employ five people.
"The weather is good and the water is so clear. This is the best way to welcome a better Boracay," said delos Santos, 42. "It's like Boracay got a reboot."
President Rodrigo Duterte in February had ordered Boracay shut for rehabilitation and said the waste being discharged into the sea had made Boracay's waters a "cesspool."
During the rehabilitation, authorities discovered a hidden sewage pipe discharging waste directly to the coastal waters and two hotels built on restricted wetlands. Some resorts were demolished because they had strayed into a no-build area fronting the sea — one of many violations that have been unchecked for years in the country's top tourist draw.
The mayor and several other officials in charge of Boracay faced complaints for neglect of duty over Boracay's deterioration.
Six months were too short for Boracay's complete overhaul, said Eduardo Ano, who heads the Department of the Interior and Local Government. Workers were continuing to widen concrete roads and build tourist infrastructures as the holiday island reopened, whipping up dust in the island's inland community.
More than 2 million tourists visited Boracay last year to enjoy its powdery white-sand beaches, spectacular sunsets and festive nightlife, generating about 56 billion pesos ($1.3 billion) in revenue. But the influx and neglect have threatened to turn Boracay into a "dead island" in less than a decade, according to a government study.
Other Philippine beach resorts and tourist destinations believed to have breached environmental and safety regulations for years have also been warned of possible closures. In a similar move, Thailand closed the bay made famous by the Leonardo DiCaprio movie, "The Beach," to allow it to recover from environmental damage caused by a deluge of tourists.