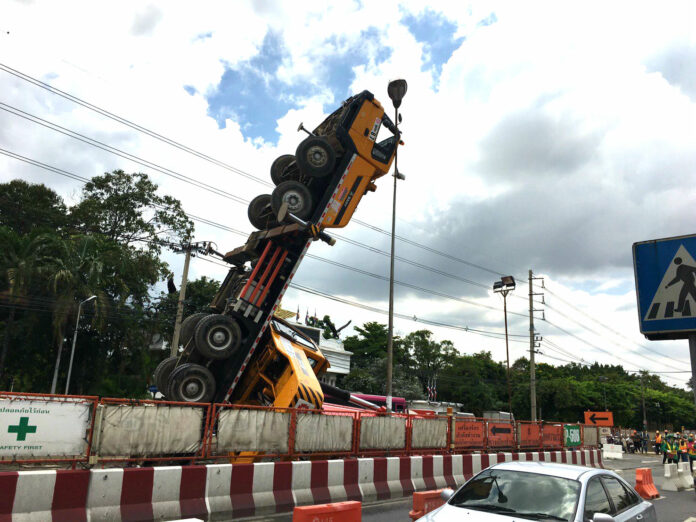 BANGKOK — A railroad crane toppled Wednesday on Phahonyothin Road, bringing traffic to a halt, police said. There were no reports of injuries.
A crane being used in the construction of the Green Line extension tipped over at about noon near the Royal Thai Air Force Academy on Phahonyothin Road, causing heavy traffic, according to Capt. Sompop Nateemungcharoen from Sai Mai Police Station.
It wasn't the first such incident. In March, a giant metal beam being used for the construction of the same project fell on a car, narrowly missing a woman. One month later, a construction crane that was being used for the completion of the Red Line collapsed and killed three workers.
The new elevated train systems are being built by the Mass Rapid Transit Authority, or MRTA. A private firm called Italian-Thai Development is in charge of their construction.
ถนนพหลโยธิน หน้าโรงเรียนนายเรืออากาศ ตรงที่ก่อสร้างรถไฟฟ้า กลับมาจากกินข้าวก็เจอรถเครนกลับหัวงี้อ่ะ น่ากลัว pic.twitter.com/AnrEn8yDKD

— Kikkii Natpatsa (@iperper) June 7, 2017
11:46 #พหลโยธิน ช่วงตรงข้าม ร.ร.นายเรืออากาศ รถเครนที่อยู่ระหว่างแนวก่อสร้างกลางถนน พลิกหงายตั้งฉากกับพื้นถนน (Cr.Törboon,นู๋เบียร์) pic.twitter.com/EgTNJ4nPPw

— JS100 (@js100radio) June 7, 2017
ของจริง ไม่ต้องทำ CG หนัง ทรานส์ฟอร์เมอร์ส 6 บนแนวก่อสร้างรถไฟฟ้า #FM91 https://t.co/QQOgCEalqY pic.twitter.com/MQF6mQx1Gl

— สวพ.FM91 (@fm91trafficpro) June 7, 2017