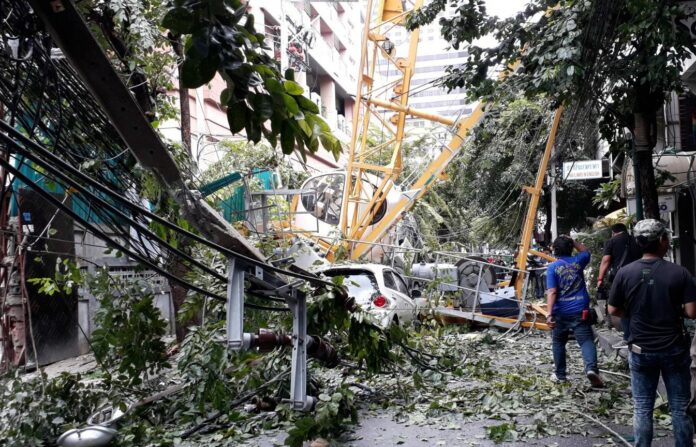 BANGKOK — A construction crane collapsed Friday morning on a car and electric poles in central Bangkok, injuring at least three people.
The accident happened at about 9am on Sala Daeng Road in the Silom area. The crane reportedly fell from a construction site onto a passing car, several trees and five utility poles, and also damaged a number of buildings and cars parked nearby.
Update: Builder Faces Charges Over Silom Crane Collapse
Road traffic was closed after police and rescue workers arrived on the scene. The cause of the accident was being investigated. Electricity to the area remained cut off as of 11am.
ซอยศาลาแดง รถเครนในโซนก่อสร้างล้มทับรถเก๋ง และเสาไฟฟ้า ต้นไม้ ล้มพาดขวางถนน #ซอยศาลาแดง pic.twitter.com/4joVKxJBU9

— I'm Pokdeng (@iampokdeng) September 14, 2018
A female victim was trapped in one of the vehicles and had sustained serious injuries. Two men, a motorcycle rider and a pedestrian, suffered minor injuries. All were taken to a hospital.
Police identified Wirak Reuan as the crane's operator. The construction was for a housing complex and said to have been underway for over a year.
เครนล้มพัง ร่วงลงล่าง ศาลาแดง ซอย. 2 เห็นมอไซด์ล้มนอนอยู่ ไม่แน่ใจคนขับเป็นไง pic.twitter.com/b44Rn6ymAZ

— sattakamol (@Sattakamol_w) September 14, 2018
Update: This article has been updated with additional information.