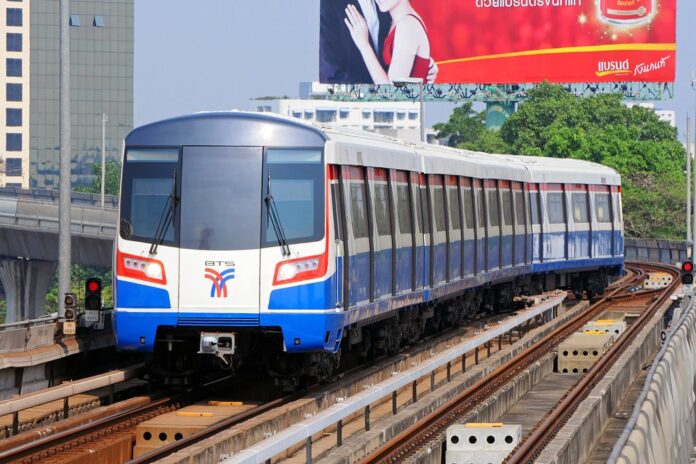 BANGKOK — Commuters shouldn't hold their breaths for two additional BTS stations they've been paying for since the first trains rolled out nearly 20 years ago.
Despite racking up potentially billions of baht by including BTS Sena Ruam on the Sukhumvit Line and BTS Suksa Witthaya on the Silom Line in its fare table, the BTS has no plans to build them at this time.
The system operator said Friday the unbuilt stations are still being evaluated for their environmental impact and passenger value, three years to the month after saying they would be completed in 2018.
No time frame can be promised, a BTS representative said today. Meanwhile fares charged for the ghost stations will remain in place even though no work has begun.
Unlike travel between any other two stations, commuters passing the two planned stations – say from BTS Chong Nonsi to Surasak, or BTS Ari to Saphan Khwai – pay fares equivalent to two stations instead of one.
The two ghost stations have been factored into the popular rail system's fares since the service opened. If just half of the 2.96 billion trips taken since 1999 passed them, when the system was much smaller, the revenues could theoretical add up to several billion baht.
Passengers today pay between 3 baht and 7 baht to pass them; meaning the operator could have easily reaped over 600 million baht from 2017's 129,533,597 trips by that same reasoning.
The matter came to public attention a few years back when someone complained online about the more expensive fares between the two imaginary stations. The company was criticized heavily for charging for two stations that don't exist.
The company responded by saying fares are based on distance, not the number of stations. BTS Executive director Anat Arbhabhirama reiterated that this past August.
Looking at a map calls those claims into question.
Thanoochai Hoonniwat, director of City Hall's Traffic and Transport Department, has said its concession requires the operator to charge fares by distance. He said the two incomplete stations lie between those that are quite far apart: 2.3 kilometers from Ari to Saphan Khwai, and 1.7 kilometers from Chong Nonsi to Surasak. He said that justifies the more expensive fares, even if there is no station in between.
According to Google Maps, the distance from Ari and Saphan Khwai is 1.5 kilometers, not 2.3 kilometers. And Chong Nonsi to Surasak is 1.2 kilometers, not 1.7 kilometers.
Traveling similar distances between other stations also costs less. A trip from Siam to Ratchadamri – also 1.2 kilometers – costs 16 baht. So is the 1.6-kilometer journey from Bang Wa to Wutthakat.
Compared again to the 23-baht from Chong Nonsi to Surasak, distance doesn't appear to matter much.