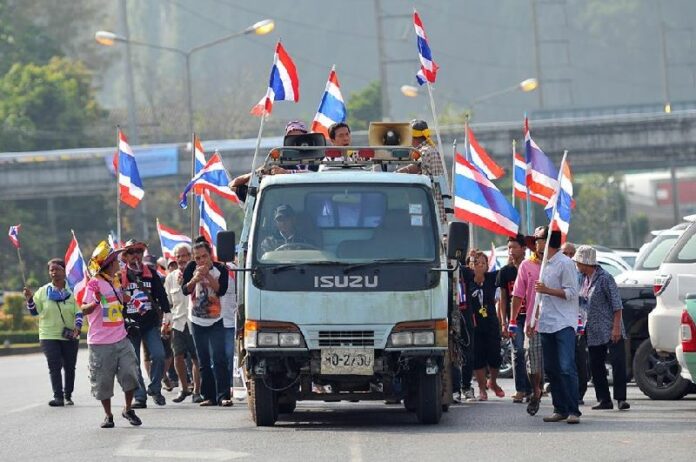 (21 January) Officials of Tourism Authority of Thailand (TAT) have expressed fears that the ongoing political crisis continues to affect the Kingdom's tourism industry.
Mr. Thawatchai Arunyik, Governor of the TAT, said he has instructed the policy and evaluation teams to closely monitor the tourism market throughout the year in order to reinvigorate the industry, which has suffered greatly from the political crisis.
For instance, once the "Bangkok Shutdown" operation of the People′s Committee for Absolute Democracy With the King As Head of State (PCAD) is over, Mr. Thawatchai said, the TAT will "regain tourists′ confidence" by organising "Big Events" in areas previously occupied by the protesters, such as Ratchadamnoen Avenue and Ratchaprasong Intersection.
"We will invite many foreign [business] agents and foreign media to visit Thailand to express our confidence," Mr. Thawatchai said.
However, it is unclear when the protests will be over; PCAD has adamantly insisted that their occupation of Bangkok will not end unless Prime Minister Yingluck Shinawatra resigns from her caretaker position, a demand repeatedly rejected by the government.
Another option to revive the tourism market is to focus on "niche market", said Mr. Apichart Inpongpan, Deputy Director of the Policy Section of TAT.
The TAT has also conducted meetings with Thai Airways to develop strategies to encourage more tourist arrivals, according to Mr. Pongsathorn Ketsamlee, Deputy Director of the Asian and South Pacific section of TAT.
He admitted that the TAT is facing tough works because the political rallies are prolonged and it is impossible to predict violent incidents.
"Many foreign tourists have either avoided Thailand, or changed their destination from Bangkok to Pattaya, Chiang Mai, Phuket, and Samui," Mr. Pongsathorn said, "The goal of 28 million foreign tourists for this year might not be achievable, but it won′t be in the minus. I think we can expect at least 26 million".
He stressed that tourism industry is the barometer of confidence other nations have toward Thailand.
The TAT′s hope that Chinese New Year season would make up losses in tourism revenue might not be fulfilled neither, according to a number of officials.
Mr. Suchart Hirankanokkul, Director of the southern region section of Thai Hotel Association (THA), lamented that all Chinese charted flights to Thailand have been cancelled by the Chinese authorities out of concerns about the current political crisis.
The market is experiencing 20% decline in Chinese tourists, Mr. Suchart said.
Mr. Kasian Chaowattanapisut, Director of the Thai-China Tourism Alliance Association (TCTA), said he has originally expected that 500,000-600,000 Chinese tourists will visit Thailand during the Chinese New Year season, but now he would be satisfied if 300,000 of them did arrive.
Meanwhile, the raging southern insurgency has caused many tourists to cancel their hotel booking in Songkhla province, said Mr. Somchart Pimthanapoonpon, Director of Hat Yai – Songkhla Hotel Association.
Overall hotel reservation has fallen to 60% of all capacities, whereas it should have been 80-90% at this time of the year, he said.
For comments, or corrections to this article please contact: [email protected]
You can also find Khaosod English on Twitter and Facebook
http://twitter.com/KhaosodEnglish
http://www.facebook.com/KhaosodEnglish