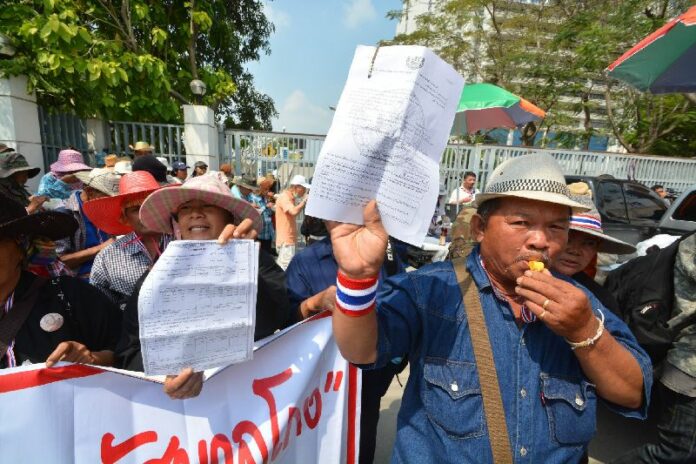 (6 February) Prime Minister Yingluck Shinawatra has defended rice pledging scheme even as farmers continue their protests against the program.
The rice mortgage scheme is "similar to agricultural subsidisation policies in many other countries," Ms. Yingluck wrote in a Facebook post, "We have seen the success of this policy in its first two terms".
She added, "The current situation is unusual, as we have been facing political instability for 3-4 months. The situation had obstructed the caretaker government to exercise its power," to pay the farmers the money they were owed under the governmental program.
Just today, furious farmers from the provinces of Petchaburi, Ratchaburi, Nakhon Pathom and Kanchanaburi marched to stage their protest in front of the Ministry of Commerce in Nonthaburi province, demanding their promised compensation from the scheme.
The farmer representative stated that the payment was due 4 months ago, and demanded the government to start pay them immediately.
In the Facebook post, Ms. Yingluck promised to pay back the farmers as soon as possible.
"I have not been at ease. I have instructed related authorities to identify problems which obstruct the payment. Now, the Ministry of Finance is currently seeking for loans, while the Ministry of Commerce is studying the possibility to auction off the rice to earn some money to run the scheme," the Prime Minister said.
Krung Thai Bank has previously refused to approve a loan for the government, much to the cheer of anti-government protesters who claim the rice pledging program is a corrupt populist policy.
For comments, or corrections to this article please contact: [email protected]
You can also find Khaosod English on Twitter and Facebook
http://twitter.com/KhaosodEnglish
http://www.facebook.com/KhaosodEnglish