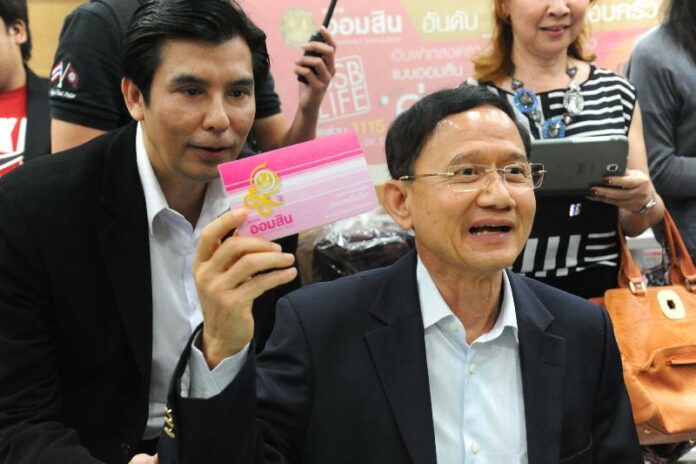 (18 February) The Government Savings Bank has cancelled loans to the government rice pledging program, while its director has filed his resignation.
The GSB was previously slated to finalise loans to the Bank of Agriculture and Agricultural Cooperatives (BAAC) which would allow the government to pay the farmers under rice mortgage program. Farmers said the payment has been delayed for at least 4 months.
GSB board announced last week that the 5 billion baht loan was meant to support the liquidity of the BAAC. An additional 20 billion baht loan to BAAC was also due to be approved. However, reports emerged that the BAAC would distribute the money for the controversial rice scheme, angering anti-government protesters who view the scheme as potentially corrupt.
The protesters eventually launched a campaign to mass withdraw their money from GSB accounts in protest, resulting in approximately 30 billion baht withdrawal in a single day on 17 February, compounded by a large number of account holders who withdrew their money out of fear that the GSB might lose stability.
Responding to the fear of bank run and the possibility that the GSB might end up cancelling the loans, prominent government supporters and their allies launched a counter-campaign to deposit the money in GSB accounts.
One such sponsor was Mr. Wiwat Teekhakirikul, major shareholder of cosmetic company Karmert, who deposited 70 million baht into his account, which made him the biggest depositor of today.
Over 100 businessmen and businesswomen also deposit their money to the bank en masse, such as Mr. Yothin Nueang-Chamnong, owner of Modelform Furniture Company; Mr. Kamthorn Wang-Udom, pipeline and fossil energy investors; and Mr. Suwit Mapaisansilp, Owner of Phatra Capital.
At GSB Government Complex branch, Mr. Tawatchai Thaikheaw, Deputy Permanent Secretary of the Ministry of Justice, along with several officials, reportedly withdrew their moneys from other banks to deposit with GSB in a gesture of support for GSB Board decision.
Meanwhile, approximately 200 anti-government protesters staged a rally in front of GSB head office to pressure the bank to pull out their loans to BAAC. The protesters were joined by representatives of the GSB Labour Union who demand the resignation of the entire GSB Board if the assistance to the BAAC is not cancelled.
The GSB eventually said in a statement this afternoon that it will withdraw the loans from BAAC out of hope that it will calm the protests against the bank.
Its director, Mr. Worawit Chailimpamontri, also submitted his resignation, to be effective next month.
It is unclear whether pro-government supporters will proceed to withdraw their money from the GSB in retaliation.
For comments, or corrections to this article please contact: [email protected]
You can also find Khaosod English on Twitter and Facebook
http://twitter.com/KhaosodEnglish
http://www.facebook.com/KhaosodEnglish