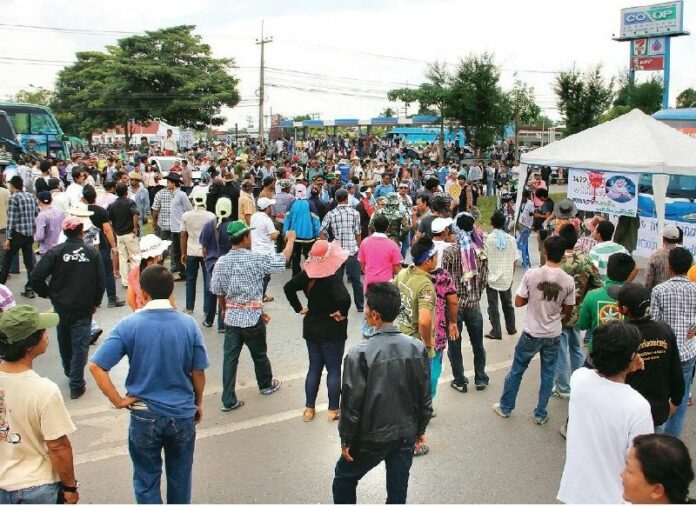 NAKHON SI THAMMARAT — A rubber farmer in Nakhon Si Thammarat province committed suicide yesterday amid the plunging price of raw rubber, a staple crop for many farmers is southern Thailand.
Pithakchai Kongthongkam, 31, doused his body with petrol and lit himself on fire at his home in Thoong Song district yesterday, police say.
Mr. Pithakchai's widow, Sujitra Srisawang, told police that her husband was distressed by the recent drop in the rubber prices, which threatened his livelihood as a rubber farmer.
"The price for rubber used to be at 70-80 baht per kilogram. Our family had an earning of 500-600 baht per day, enough to get by," Ms. Sujitra said. "But in these days the rubber price dropped to only 40 baht per kilogram, which means one third of our earnings disappeared."
Thailand is the world's largest producer and exporter, but falling global demand has caused rubber prices to drop 24 percent this year.
Ms. Sujitra added that her husband was forced to borrow money from neighbours and employers to take care of the family. "It's likely that my husband was so stressed he decided to kill himself," Ms. Sujitra said.
However, officers at Kapang Police Station said Mr. Pithakchai was recently arrested by police and charged with drug abuse, which may have played a role in his suicide.
While the motive behind Mr. Pithakchai's suicide remains unclear, the drop in rubber prices has caused a genuine crisis for rubber farmers in southern Thailand, whose livelihoods depend on the crop.
Late last year, southern rubber farmers protested the government at the time and requested a guaranteed price of 80-100 baht per kilogram for their crops. Although many rubber farmers supported the 22 May military coup that ousted the former government, Thailand's new military regime has not taken up the proposal either.
Instead of subsidies, the junta has promised sustained "structural" measures to solve the problem, such as providing soft loans for famers to purchase fertilizer.
However, some economists have expressed concern that the causes of the rubber price crisis may be too complicated for the military junta to understand.
"I cannot see any clear direction from the new government to solve the plunging robber price," said Withee Supithak, president of Federation of Industry of Thailand's southern division, "I am not sure how much [military officers] will understand the problem about rubber price, because it's an issue that many previous governments tried to solve but failed."
He added, "It's a really complex issue. It will take a long time, continuity in policies, and serious enforcement to solve the problem."