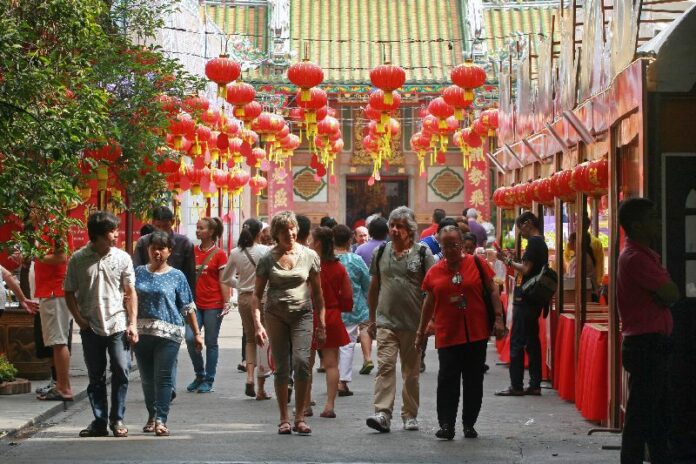 BANGKOK – Tourism officials expect the number of Chinese visitors in Thailand to reach a record high this year, yet stress that Thailand's tourism industry must look to new markets to secure stable footing for the future.
"Even though Chinese tourists account for 18.66 per cent of visitors and continue to increase indefinitely, I don't believe it is a sustainable path to developing the tourist industry in the long run if we only concentrate on the Chinese market," said Santi Chudintra, the Deputy Governor for Policy and Planning at the Tourism Authority of Thailand (TAT).
He continued, "We must find a new market at the same time … such as drawing potential tourists from Europe and India so that our national revenue will not be affected even if there are problems with the Chinese tourist sector."
The comments came following the surge of Chinese tourists to Thailand for the "Golden Week" of the Chinese New Year. Although Chinese tourists generate millions of baht in revenue for Thai businesses, they have become a frequent target of criticism among Thais, who say they are "poorly behaved" and insensitive to local customs.
Over the weekend, a video of a tourist kicking a bell at a temple in Chiang Mai caused an uproar on Thai social media, with commentators calling the action "blasphemous" and accusing the Asian-looking tourist of being Chinese, although his nationality has not been confirmed.
In preparation for the Chinese New Year festivities, Thai authorities reportedly produced thousands of Mandarin-language "tourism manuals" for Chinese visitors in an effort to curb offensive behavior. According to the TAT office in Chiang Mai, the manuals described museum etiquette, warned against using public property as lavatories, and encouraged proper driving behaviour.
In 2014, the countries with the highest number of tourists traveling to Thailand were China, Malaysia, and Russia respectively. According to Kasikorn Thai Research Center, the number of Chinese visitors is expected to grow by 10 percent this year, while the number of Russian tourists is expected to decline by 24 percent, mainly due to the fall in global oil prices.
Thailand currently sees around 26.5 million tourists per year, which TAT official Santi said could increase to 40 million over the next five years. He stressed that the country needs to push forward with infrastructure projects in order to support these high numbers.
"If Thailand still lacks of improvements and developments in public infrastructure, the anticipated 40 million tourists in the next 4-5 years will be derailed, leading to new chains of problem in tourism industry," Santi said.
TAT governor Thawatchai Arunyik said he expects tourism revenues reach Bt2.2 trillion in 2015. The income from tourism in February has already reached Bt 10,000 million, generated by Chinese New Year festivities and the stable political situation, he said.
Thailand's tourism industry struggled in 2014 after street protests broke out against former Prime Minister Yingluck Shinawatra. The protests continued for six months, with occasional outbursts of violence that killed nearly 30 people, before the military staged a coup and declared martial law, further crippling the tourism sector.
For comments, or corrections to this article please contact:[email protected]
You can also find Khaosod English on Twitter and Facebook
http://twitter.com/KhaosodEnglish
http://www.facebook.com/KhaosodEnglish