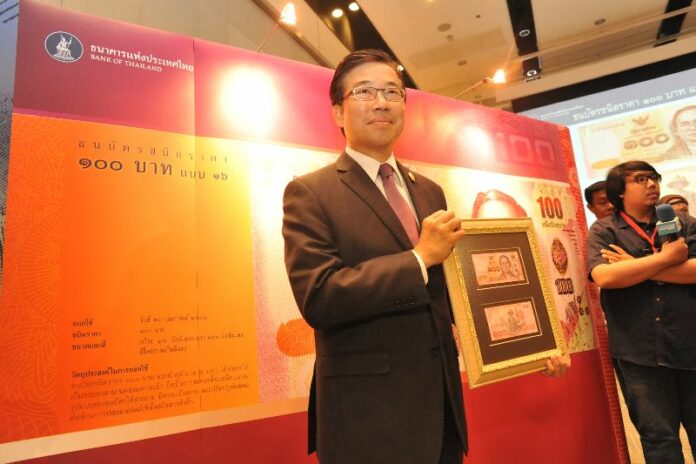 BANGKOK — An eighteenth-century monarch credited for "liberating" Thailand from Burmese occupiers is featured on the new 100 baht banknotes, the Bank of Thailand announced today.
Paiboon Kittisrikangwan, deputy governor of the BoT, said the new bills are meant to honor King Taksin the Great (1734 – 1782) for his contribution to the Thai nation.
"We also developed the design to be more beautiful, and use more modern anti-forgery technology," Paiboon said today.
The sixteenth edition of 100 baht banknotes are the same size and pink color as the existing bills. The current edition depicts King Chulalongkorn, also known as Rama V, who ordered the abolition of slavery in Thailand, then known as Siam.
According to a press release by the BoT, the new notes have series of special markings to prevent counterfeiting, including a watermark of HM the King's portrait, a hologram security strip, and several raised markings that allow the bill to be identified by touch.
The new notes will be available at commercial banks across the country from 26 February onward, Paiboon said.
According to the state narrative of Thai history, King Taksin liberated Thailand from Burmese invaders in 1767 and established the new capital city in Thonburi. In 1782, King Taksin was ousted by one of his army commanders in a coup d'etat and executed. The coup leader, Somdet Chao Phraya Maha Kshatriyaseuk, later assumed the throne as Rama I and moved the capital city to present-day Bangkok.
The Thai government officially honored King Taksin with the title "the Great" in 1981.