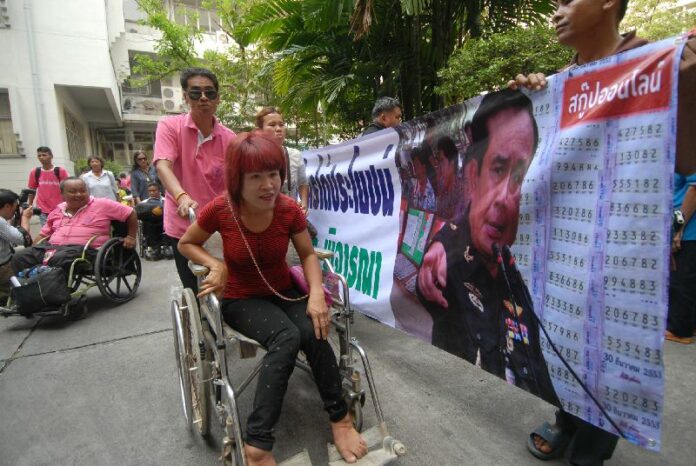 BANGKOK — More than 100 lottery vendors rallied in Bangkok today to protest a government plan to introduce lottery ticket vending machines, which they say will decrease job opportunities for disabled people who commonly sell lottery tickets in Thailand.
The vendors, who are members of the Disabled Vendors Association, convened at the government's complaint center this morning to submit a letter of protest to Prime Minister and junta chairman Prayuth Chan-ocha.

Lottery vendors march to the government complaint center in Bangkok, 24 March 2015.
Earlier this month, Gen. Prayuth and the Cabinet agreed to consider installing lottery vending machines in convenience stores across Thailand for the first time. Government officials say the machines will reduce the cost of production for the state, and reduce the number of "middlemen," which increase the ticket prices.
Under the current system, the Government Lottery Office sells tickets to five distributing companies – known as the "Five Tigers" – who in turn sell the tickets to street vendors. As a result, the market price of a lottery ticket usually hovers around 120 baht, an approximately 40 percent increase from the original price set by the government.
However, the leader of today's protesters, Santisuk Polsawing, argued that printing more tickets is a better way to lower prices.
"The production of lottery tickets doesn't match the demand of customers," said Santisuk, who is the leader of the Disabled Vendors Association. "The correct way to solve the problem is to increase the production, and allow more vendors who are disabled, because it is a way to create jobs for those without many opportunities."
Santisuk also warned that selling lottery tickets through vending machines at shopping malls and convenience stores could make it easier for children to start buying tickets, and may feed gambling addictions among serial lottery players.
"Selling lottery tickets is a good profession for people with disabilities," Santisuk said. "I'd like to call on the Prime Minister not to restrict rights of disabled people, because the state welfare payment of 800 baht per month for disabled people is not enough to live on. I insist that disabled people support the government. If the Prime Minister wants to return happiness to the people, he has to return happiness to disabled people, too."
The plan to legalize lottery vending machines is currently being studied by the Council of State.