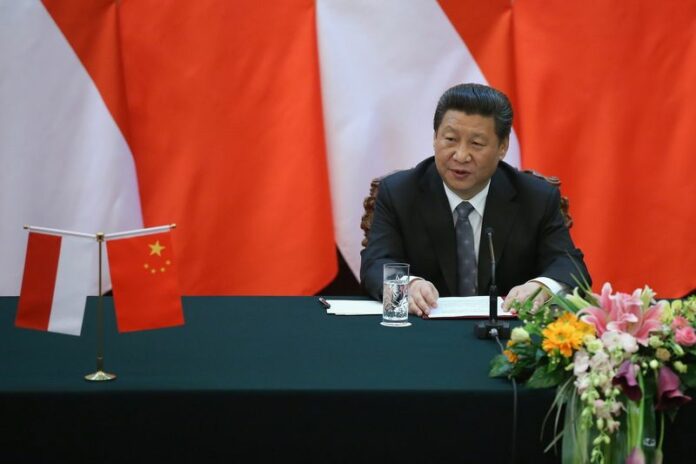 BOAO, CHINA (DPA) — Chinese President Xi Jinping urged mutual trust to replace lingering suspicions among the world's nations, as he led the annual Boao economic forum for Asia on the weekend.
"Asia still faces numerous challenges, including those old issues left over from history and new ones associated with current disputes and security threats," Xi told the delegates.
"But the Cold War mentality should be truly discarded and new security concepts be nurtured as we explore a path for Asia that ensures security for all."
The annual forum, which China has hosted on the southern island of Hainan since 2002, is being followed closely this year as the launch of the China-backed Asian Infrastructure Investment Bank (AIIB) has gripped international observers.
"On the one hand, countries are threatened by China's rise, and on the other they are attracted by the possible financial benefits and want to be part of China's success," independent Beijing-based analyst Zhang Lifan told dpa.
The United States opposes Beijing's plan to set up the bank by the end of the year to fund rail, road, power and other projects, citing concerns over transparency and corporate governance in China.
The US Treasury Department also said the initiative is a deliberate effort to undercut the World Bank and Asian Development Bank (ADB), institutions established in the mid-20th century that are dominated by the US and Japan.
Washington's reported attempts to pressure allies in Europe and Australia to refrain from joining the initiative seem to have failed.
Australia intends to join the China-led bank as a founding member, Prime Minister Tony Abbott said Sunday.
Britain, Germany, France and Italy have decided to join, while Russia signed up to the plan on Saturday.
The initiative was also received with enthusiasm among forum delegates.
"Before, if you were in trouble you had to go either to the World Bank or ADB, but now there is an alternative," said Atul Shunglu, assistant secretary-general of the Federation of Indian Chambers of Commerce and Industry.
"The AIIB can push existing institutions to become more flexible" Atul said.
Cyril Muller, vice president of the World Bank Group, admitted Sunday the World Bank is "getting a strong push to change quickly."
"Each of the world's [major financial institutions] learn from each other, and I pretty much share the view that starting with a clean sheet of paper is a good idea," Muller told forum delegates.
But he objected to the view that there is tension in the World Bank between the US, Japan and Europe on one side and emerging countries on the other.
"It's not totally true. There are groups that blend these sets of interests and this helps build consensus and understanding," Muller said.
Speakers at the forum said the US could have avoided its position of isolation in resistance to the bank.
"If the US had ratified IMF reforms, then the debate over global [financial] governance architecture would be very different today," former Australian Prime Minister Kevin Rudd said Sunday.
Rudd was referring to a 2010 agreement by the Group of 20 (G20) industrialized and emerging economies to modestly democratize the International Monetary Fund and expand its lending resources.
Xi and other leaders also promoted Beijing's vision for the "Silk Road Economic Belt," which he first proposed in 2013.
Xi said a strategy has been developed to improve trade and transport links in Asia.
The New Silk Road Economic Belt seeks to upgrade infrastructure linking China to Europe through Central Asia, and the 21st Century Maritime Silk Road plan aims to strengthen maritime cooperation.
China has already built joint economic zones and ports in partnership with countries including Vietnam, Laos, Kazakhstan, Myanmar, Cambodia, Greece and Sri Lanka.
Some critics have expressed concern that China would use the "silk road" model to strengthen its position in maritime territorial disputes with Japan, the Philippines, Vietnam, Malaysia and Taiwan.
In his speech, Xi did not make any direct reference to territorial disputes.
US senators expressed alarm this month about China's construction projects to expand small islands it claims in the South China Sea.
Without naming the US, Xi urged delegates to "oppose interference in other countries' internal affairs and attempts to destabilize the region out of selfish motives."
China has a lot to gain from a successful silk road plan, analysts told dpa.
"The goal is no simple link between China and Europe, it's about building a China-centric, cross-regional network infrastructure," said Moritz Rudolf, of the Mercator Institute for China Studies in Berlin.
"Projects in the Silk Road initiative would fill the order books of Chinese state-owned enterprises and create new jobs in the country," Rudolf said.
"With the expansion of the Eurasian transport infrastructure, the government could also lay the foundations for new China-centered production networks, for example with Chinese companies moving production to Southeast Asia, and open up new trade routes, markets and sources of energy.
"China's position as a trading power would thus be strengthened."
(Reporting by Joanna Chiu)