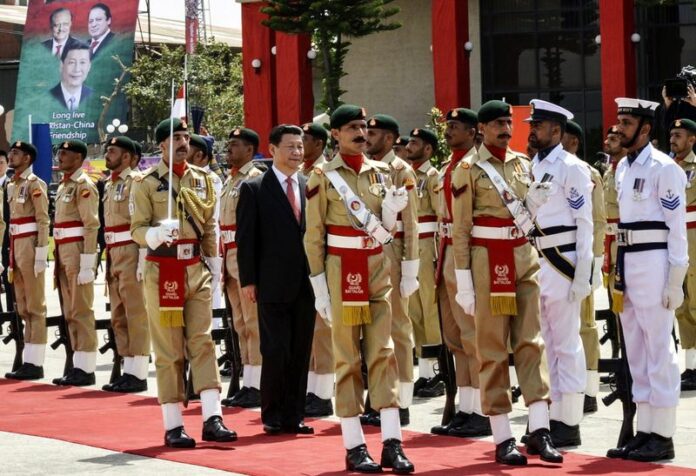 BEIJING (DPA) — A Pakistan hydropower project will receive the first funding from China's 40-billion-dollar Silk Road Fund in support of an ambitious infrastructure investment belt linking China to Europe through Central Asia, state media reported Tuesday.
The fund will inject capital into China Three Gorges South Asia Investment, a subsidiary of the China Three Gorges Corporation, to develop the 1.65-billion-dollar Karot hydropower project and other clean-energy projects, the Xinhua news agency reported.
Karot is a priority project for the broader China-Pakistan Economic Corridor initiative, proposed by Chinese Premier Li Keqiang in May 2013 and heavily promoted by state media during President Xi Jinping's visit Monday to Pakistan.
The 46-billion-dollar, 3,000-kilometre corridor would connect China, Pakistan and the Arab world via roads, railways and energy projects starting in north-west China's Xinjiang region across the Karakoram mountain range to south-west Pakistan's deepwater Gwadar Port.
The hydropower project marks the first investment from the fund since its establishment in December, the official China Daily reported. The Silk Road Fund will join the Export-Import Bank of China, one of China's major policy lenders, and other financial institutions to extend loans for the project, an unnamed official told the paper.
A Silk Road Fund envoy signed a memorandum of understanding Monday with the China Three Gorges Corporation and the Pakistan Private Power and Infrastructure Board to provide capital to construct the project, Xinhua said.
Chinese companies plan to develop a capacity of 3,350 megawatts along the Jhelum River through new developments, mergers and acquisitions, Xinhua said.
The project is in the fourth stage of the river's five-stage development plan, with an installed capacity of 720,000 kilowatts and an annual power generation capacity of 3.2 billion kilowatt-hours.
(Reporting by Sajjad Malik, dpa)