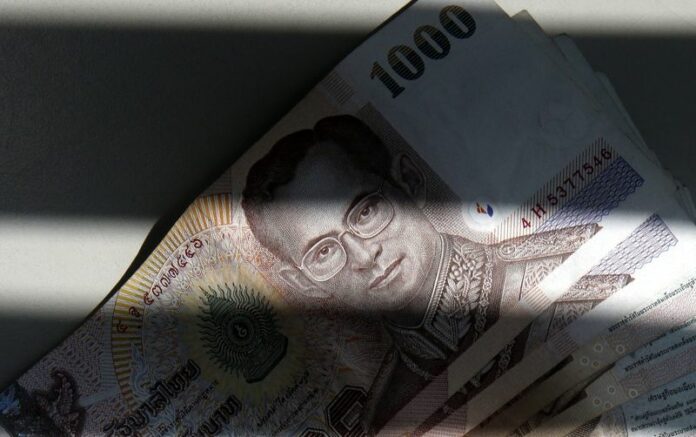 BANGKOK (DPA) — A typical weekday evening for first-jobber Thanakarn is spent in one of central Bangkok's many shopping malls and high-end bars or restaurants that line Sukhumvit Road, a main thoroughfare.
The 24-year-old, who only wanted to be known by her first name, goes out with friends or co-workers three to four times a week. She may spend around 1,000 baht (30 dollars) each time, which over a month adds up to more than half her salary over the same period.
She routinely looks for new places to go and new things to buy through her social media accounts and websites that she monitors on her phone throughout the day.
Although she works for a multinational company and earns an above-average salary, she does not have any savings and is in credit card debt for her new phone and a recent trip to Japan.
"I spent a lot of money this past month and I don't have any left," she says. "I'm borrowing my friend's money to get me through the end of the month till I get my salary."
Consumers like Thanakarn have contributed to a ballooning of household debt in Thailand, which currently stands at around 10 trillion baht (29 billion dollars), or 85.9 per cent of the country's gross domestic product (GDP).
The amount of household debt – measured as all the money owed to financial institutions by adults in a household – has jumped by around 40 per cent in the last six years, according to the Bank of Thailand.
If unofficial loans from loan sharks, which are common in Thailand, are taken into account, the debt is estimated to be even larger than GDP, confirming Thais as some of the most indebted people in the region.
"High consumer debts could eventually slow down economic growth," warns Vikas Kawatra of SCB Securities. "Because at the end of the day, it is the consumers that drive the economy."
High debts could result in consumers spending less money, which in turn could lead to companies earning less profit and investing less, resulting in lower economic growth, Vikas explains.
The ratio of Thailand's household debt to income has increased as well, growing from 93 per cent of annual income in 2007 to 121 per cent in 2014, according to a report by consultants McKinsey.
"Thais' spending habits have changed in recent years," says Kreingkrai Kanjanapokin of Bangkok-based marketing firm Index Creative Village. "More and more people are living extravagant lifestyles."
People spend more time and money at shopping malls, buy more expensive cars, travel abroad more, and own and use credit cards more, according to Kreingkrai.
The number of credit cards in Thailand rose from 13.4 million in 2010 to 20.5 million this year, according to the data from the central bank.
Shopping mall operators have greatly expanded their operations in the capital as well as in regional cities over the past few years. They reported growth in revenue and in the number of customers last year and forecast that trend to continue.
Apart from buying new possessions, travel abroad accounts for a large amount of household debt, estimated at 12.6 percent of money owed last year.
Japan and South Korea – both more expensive countries than Thailand's neighbours Cambodia or Myanmar – are increasingly popular destinations for Thais.
Kasikorn Research Centre forecasted a 30-per-cent growth in the number of Thai tourists visiting Japan this year.
A growing taste for Western-style food and drink, such as wine, has also contributed to an increase in everyday spending, according to market intelligence firm Euromonitor.
Thais' heavy use of social media "is one of the key reasons that drives consumerism," Kreingkrai said. "People emulate what they see others do online."
An average Thai spends an estimated 6.6 hours per day on the internet, while the amount of individual user activity on Facebook is much higher than the global average.
"Being in debt is using money from the future." Vikas says. "Problems arise when the future expectation do not match the reality of the economy."
Economic growth has been far from stable in the last five years, with fluctuations partly due to political volatility, and no strong recovery in sight.
Growth estimates for 2015 were cut from 3.5-4.5 per cent to 3-4 per cent due to weakening exports and falling domestic demand, according to the Office of the National Economic and Social Development Board.
The key tourism industry has also been affected by political events including street protests and the military coup last year.
"Household debt likely would not lead to the collapse like that of 1997," said Vikas, who was among the few economists to predict the Asian financial crisis that year. "But the risks are now spread out among consumers."
Thanakarn however displays little fear of the state of the economy and the risks.
"I know I should spend money wisely and think about saving," she says. "But things I buy and places I go make me happy … Shouldn't I do what makes me happy?"
(Reporting by Siraphob Thanthong-Knight)