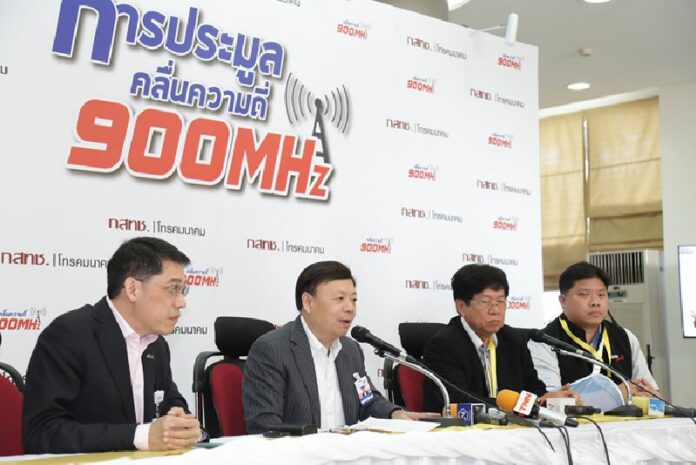 BANGKOK — Two mobile service providers paid record prices for spectrum licenses to offer next-generation service, according to state telecom regulators.
Two winning bids for a combined 152 billion baht (USD$4.2 billion) were placed for the 900MHZ spectrum by True Corp. and Jasmine International, were upset wins over Advanced Info Service (AIS) and Total Access Communication (DTAC), the nation's No. 1 and No. 2 network operators.
True's bid reached 76.3 billion baht while Jasmine offered 75.7 billion baht, according to the National Broadcasting and Telecommunications Commission. Both AIS and True won licenses in a different frequency at an auction held last month.
Shares in Thailand's telecoms sector slid to a three-year low Friday as investors worried about the cost of the licences, and the possibility of Jasmine's entry sparking a price war. Jasmine has a variety of holdings including Triple T Broadband, news portal TLC Thai, Acumen satellite communications and Jasmine Telecom Systems.
The commission extended the auction for the two 4G spectrum licences a fourth day on Friday amid fierce competition.
Market leader AIS and third-ranked True, winners in the first auction in November, were vying with second-ranked DTACT and Jasmine.
The technology bellwether ICT index fell 2.8 percent on Friday, extending a loss of nearly 20 percent in the past three months which has underperformed a 6 percent fall of the main Thai index.
TAC has been the top loser, sliding 35 percent, while True declined 27 percent. AIS stock has shed 15 percent and Jasmine 17 percent over the three-month period.
"For the past two months, we have strategically positioned our portfolio to reduce potential volatility," said Monrat Phadungsit, chief investment officer at Land and Houses Fund Management Co.
Companies bid for spectrum licences that allow them to expand capacity and tap strong growth in mobile data to help offset falls in voice revenue.
Higher-than-expected bids could trim operators' profit growth and dividend payouts, although the impact would be limited by lower licensing fees, Monrat said.
Thailand's USD$6.7 billion mobile market is dominated by the top three players and analysts expect competition to intensify with Jasmine obtaining a license and becoming the fourth operator.
"If Jasmine wins a licence, we expect the ability to monetise data will be more difficult for AIS and other operators," UBS analyst Youssef Abboud said in research note.
Trinity Securities said AIS, which has the strongest financial position in the sector, could afford as much as 100 billion baht for a licence and was the only operator that could still have earnings growth next year.
Story: By Khettiya Jittapong and VIparat Jantraprap / Reuters, Khaosod English