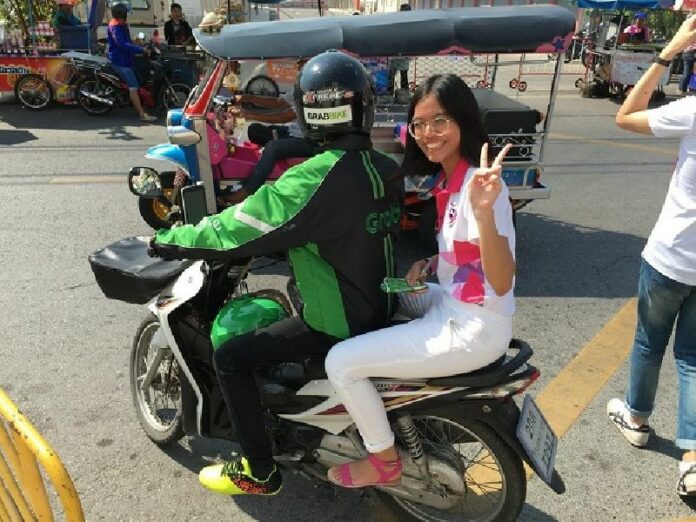 BANGKOK — Friday rush hour has one fewer option after transportation officials ordered GrabBike to halt its service because it violated the law.
The Department of Land Transport told the operator of motorbike taxi service GrabBike to stop operating because the use of private motorcycles, its payment system and rates do not comply with the law. Authorities also suggested such services were bad for Thailand.
"While their service is still against the law, the department will ask for cooperation to temporarily halt the service until it can comply with the regulation," said Nanthapong Cherdchoo of Department of Land Transport.
Someone answering the telephone at a general number listed for GrabBike said there was no one available to comment on the news.
Nanthapong said combined military officers and police from many units will mobilize and coordinate to make sure GrabBike is not operating.
Under regulations, motorcycles used for public transportation must be registered and display the proper yellow license plate.
Transportation officials said they will discuss with related government agencies on making sure such services comply with the laws. Authorities claimed such ride-share app services damage the country's transportation system and create unfair competition.
Authorities also said the service is less safe for passengers as unregistered motorcycles have no insurance, and the operators' criminal records have not been checked.
They pointed to a variety of penalties to enforce the action.
The penalty for using a private motorbike to carry passengers is a 2,000 baht fine. Those not dressed as regulations require will be fined 1,000 baht. And those without driver's licenses certified for public transportation will also be fined 1,000 baht.
The company Friday afternoon seemed to refute one thing in a message posted to its Facebook page. It said the company does indeed offer personal accident insurance for both drivers and passengers – up to 600,000 baht for GrabBike and 900,000 baht for GrabCar.
GrabBike first launched in Thailand in August and has been one of the most growing service under the umbrella of the mother company Grab in Thailand, according to the operator.
Just last month U.S.-based Uber began a pilot of a similar motorcycle taxi service in limited areas of Bangkok, but transportation officials made no mention.
GrabBike is part of Singapore-based Grab, which has expanded throughout Southeast Asia during the past four years.
Related stories: