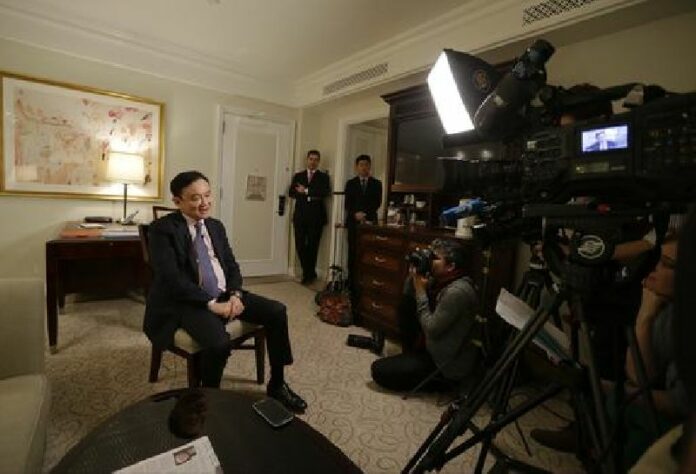 BANGKOK — The Minister of Foreign Affairs said the media paid too much attention to the speech and subsequent news conference held by former Prime Minister Thaksin Shinawatra in New York City on Wednesday.
Minister Don Pramudwinai compared the event, which appears to be a part of Thaksin's recent coordinated PR blitz, to a "dog bites man" story that distracts people away from important issues in the country.
Thaksin is the brother of former Prime Minister Yingluck Shinawatra, whose government was toppled by the current junta in May 2014. Thaksin himself was ousted from office by an earlier coup in 2006 but he has retained immense influence over his political dynasty in Thailand.
"Dog bites man stories shouldn't be published," Don said after attending an international summit on Thursday at a hotel in Bangkok. "I'm not saying who bit who. I'm talking about things in general. Our good issues should be presented. When man bites dog, that's a big story. I'm not saying who is what, but, in this context, I'm saying that you should present good issues so the people will know about them."
---
Thaksin Says Junta Seeks 'Backward Democracy'
---
The Minister also said Thailand will not be able to "move forward" if the media keeps talking about the same problems from the past.
Don is the highest level official from the military government to comment on Thaksin's speech at the New York-based World Policy Institute, in which he expressed criticism at the new constitution being drafted under the junta's oversight.
"Due to the framework set out by the latest draft constitution, it is difficult to foresee a government that is responsive to the people and the challenges of the 21st century," the former Prime Minister was quoted as saying by the AFP.
In a news conference held later, Thaksin accused the junta of dragging Thailand into a "backward democracy" and said the military regime is causing more friction in Thai society by "trying to use the law to benefit their own politics."
Thailand's former Prime Minister Thaksin Shinawatra responds to questions during a news interview Wednesday, March 9, 2016, in New York. Photo: Frank Franklin II / Associated Press
Thaksin's media offensive in New York took place roughly the same time as the military government hosted the 14th Asia Cooperation Dialogue at Siam Kempinski Hotel. The pan-Asian ministerial forum was initiated by the Thaksin administration in 2002.
During his keynote speech to the assembled foreign dignitaries, junta chairman Prayuth Chan-ocha made no mention of Thaksin, but instead talked about the importance of respecting the law.
"What made this country a country is the law. Everyone stays under the same laws. There's no discrimination, who's rich, who's poor, who's tall or short, who's black or white, they are all under the same laws," Gen. Prayuth said. "Even His Majesty the King stays under the constitution."
---
Shinawatras Defy Junta With Publicity Drive
---
Since coming to power in May 2014, Gen. Prayuth's regime has attempted to dismantle the Redshirt movement and Thaksin's influence over Thai politics by banning political activities, ordering pro-Thaksin politicians not to criticize the junta, and punishing those who disobey.
Thaksin kept a relatively low-profile in the months following the coup, but in recent weeks he has embarked on a series of media campaigns which include granting interviews to foreign press and publishing an English-language biography.
Related Stories:
Thaksin: 2014 Coup Makers Helped by Traditional Elites
Thai Army Chief Files Lese Majeste Against Thaksin
Prayuth Asks Media To Stop Reporting About Thaksin
Teeranai Charuvastra can be reached at [email protected] and @Teeranai_C.