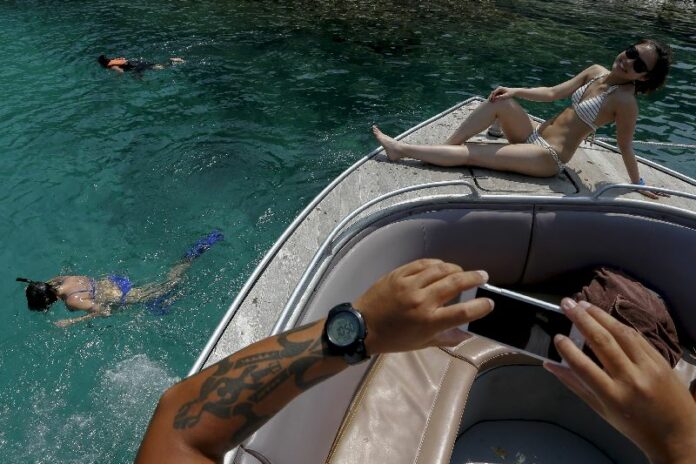 By Amy Sawitta Lefevre
Reuters
BANGKOK — Thailand needs to do more to keep its tourists safe if it wants to achieve its objective of attracting more high-end travelers, operators say, or it risks losing out to its up-and-coming neighbors.
With its palm-fringed beaches, Buddhist culture and racy nightlife, Thailand has been the poster child for Asian tourism for decades, attracting a range of visitors from backpackers and adventure-seekers, to families and culture vultures.
In recent years, increasing numbers of Chinese tourists have joined the mix. But dark clouds could be forming even as a record 32 million tourists are expected this year.
The industry, which accounts for 10 percent of gross domestic product, has been resilient to political upheaval over the last decade that has included violent street protests and military coups.
Even a deadly 2015 bomb attack on a Bangkok shrine popular with tourists failed to dent arrivals to any discernable degree.
But crime and accidents, and the perception Thailand is becoming a mass market, could pose a bigger threat to the government plan.
The murder of two British tourists in 2014 hit world headlines. This month, two French women filed complaints of rape.
Woeful road safety, accidents at sea, scams and even angry elephants have added to what seems like a never-ending litany of bad news.
"Visitor volume is high but with that the probability of crime also increases," Surapong Techaruwichit, chairman of the Hotel Association of Thailand, told Reuters.
"We need to reassure tourists that Thailand is safe."
The government's Tourism Authority now wants to focus on "quality tourism", and has launched a campaign to attract visitors who spend more, and hopefully stay out of trouble.
"Many people say tourists come here because it is a cheap destination. This needs to change," Tourism and Sports Minister Kobkarn Wattanavrangkul told a tourist safety workshop last week.
Tourists take pictures at Mai Khao Beach, as a plane approaches the Phuket International Airport, March 17, 2016. Photo: Athit Perawongmetha /
Reuters
'Nothing Goes Wrong'
But luring more discerning travelers might not be so easy.
"If we want to attract the high end we need to reassure them. Meeting our target luxury-traveler target will be harder after the recent negative publicity," said Surapong.
The figures can be frightening.
Fourteen U.S. citizens died of unnatural causes in Thailand from January to June 2015, higher than the 11 who died in France, a top destination for U.S. tourists, according to U.S. State Department figures.
Thailand had the second-highest number of deaths of British nationals in 2014 after Spain, which is the top holiday spot for Britons, British Foreign Office figures show.
Major General Surachet Hakphan, commander of the Tourist Police, says things will change. The men and women in his division will focus on safety, he said.
"Elephants trampling on tourists and tourists having their legs cut off by speed boats, this won't happen any more," Surachet told Reuters, referring to two recent fatal accidents.
Jason Friedman, managing director at J.M. Friedman & Co. – Bespoke Hospitality Services, said despite the bad news, Thailand had managed to preserve its image as a holiday paradise.
"People want to believe Thailand is a great place and nothing goes wrong here – this is a perception that works in our favor," Friedman told Reuters.
For Friedman, who focuses on the high-end, the bigger risk is the volume of arrivals creates the impression that Thailand has become a mass market. Or as Friedman puts it: industrial tourism.
Tourists wanting off-the-beaten-track travel need not look far, he said.
"The industrial-strength tourism will push people away. They have started looking for remote beaches in Cambodia or Myanmar," he said.