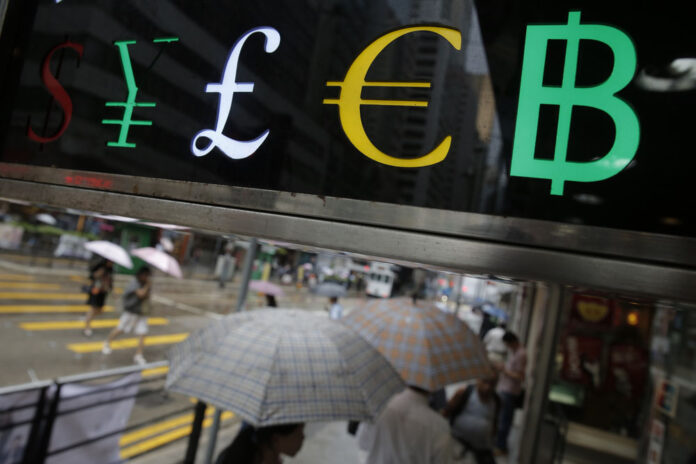 HONG KONG — Most Asian stock benchmarks rebounded from early losses Tuesday as investors started shaking off the jitters from Britain's vote to quit the European Union and its messy aftermath.
Global financial markets have been roiled by the result of last week's vote, which also sent the pound to its lowest level in three decades. The turmoil and uncertainty over the decision to leave the EU prompted ratings agencies Standard & Poor's and Fitch on Monday to strip the UK of its top-shelf credit rating.
Asian markets were broadly lower in early trading but reversed some of their losses later on optimism for more government support policies. Japan's Prime Minister Shinzo Abe instructed officials to take steps to reassure markets, the Kyodo news agency reported, while South Korea's government unveiled a 20 trillion won (600 billion baht) stimulus package and backup budget for big infrastructure projects.
Japan's benchmark Nikkei 225 index climbed 0.6 percent to 15,399.79 while South Korea's Kospi added 0.4 percent to 1,934.23. The Shanghai Composite Index in mainland China edged up 0.1 percent to 2,898.35 and Australia's S&P/ASX 200 fell 0.5 percent to 5,113.20. Benchmarks in Taiwan, Singapore, Thailand and Indonesia also rose.
Hong Kong's Hang Seng Index fell 0.8 percent to 20,077.75, dragged down by companies with high exposure to Britain's economy. One of the index's biggest losers was billionaire tycoon's Li Ka-shing's CK Hutchison Holdings, which has British retail, ports and telecom investments and fell 2.5 percent.
"When you pull a spring, after you let it go it oscillates up and down for a little while and that's still what we're seeing in the markets," said Andrew Sullivan, a sales trader at Haitong Securities. "This is nothing about individual companies per se, this is about the effect of forex on their earnings," he said.
Britons voted last Thursday to leave the EU over concerns including immigration and regulation, an unprecedented move that stunned financial markets and triggered waves of selling on Friday and Monday.
The results sent the British pound sliding. On Monday it fell another 3.5 percent to hit a new 31-year low of USD$1.3199.
The yen also surged as investors fled risky assets in favor of the currency, which is considered a haven and is hovering near its strongest level in two years. The dollar rose to 102.04 yen from 101.90 in late trade Monday. The euro strengthened to USD$1.1055 from $1.1020.
Benchmark U.S. crude rebounded 76 cents to USD$47.09 a barrel in electronic trading on the New York Mercantile Exchange. The contract slid USD$1.31, or 2.7 percent, to settle at $46.33 a barrel on Monday. Brent crude, used to price international oils, rose 77 cents to $47.93 a barrel in London.
On Wall Street, the Dow Jones industrial average lost 1.5 percent to close at 17,140.24. The S&P 500 index slid 1.8 percent to finish at 2,000.54 and the Nasdaq composite fell 2.4 percent to 4,594.44.
Story: Kelvin Chan