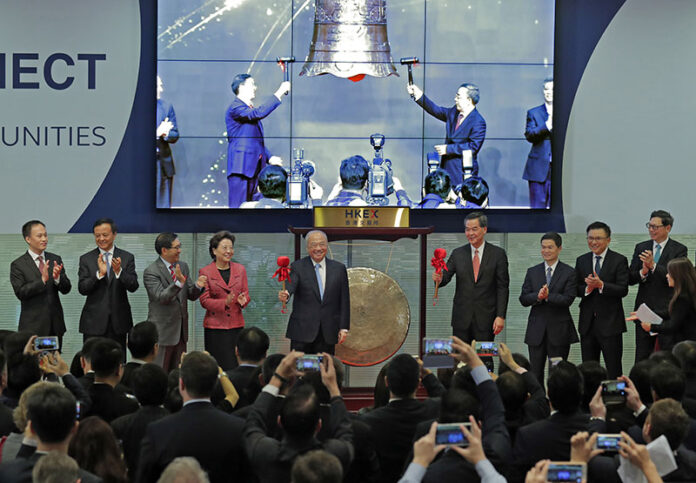 HONG KONG — Trading began Monday on a new cross-border stock link between Hong Kong and the neighboring Chinese city of Shenzhen, widening access to China's markets for global investors.
The long-awaited Shenzhen-Hong Kong Stock Connect link allows international investors to buy and sell 880 high-growth small and mid-cap stocks traded on the exchange in the southern boom town of Shenzhen via the Hong Kong exchange.
Its debut follows the launch of a similar link between Hong Kong and China's main exchange in Shanghai two years ago.
Hong Kong's top leader and the exchange's chairman marked the occasion by banging a gong in a ceremony connected by live video link to their counterparts in Shenzhen, where officials rang a bell to kick off trading.
Market response was muted in early trading, with the Shenzhen All-Share index down 0.4 percent while the Hang Seng slipped 0.3 percent, in line with other Asia market declines.
"If Shanghai Connect was our baby step on the first step, Shenzhen connect is our second step. Now we can walk and we can begin to run. So this indeed is a historical moment," said Charles Li, chief executive of market operator Hong Kong Exchanges and Clearing.
With a market value of USD$3.3 trillion, Shenzhen's exchange rivals Shanghai's in size and is the world's eighth biggest. While Shanghai is home to many huge state-owned enterprises, Shenzhen's bourse is dominated by small, fast-growing private companies in up-and-coming sectors such as technology and health-care. It often is referred to as China's Nasdaq.
"We believe Shenzhen is the largest untapped market in the world and, not surprisingly, investor knowledge is fairly limited," HSBC's Steven Sun and Bruce Pang said in a recent report.
Foreign ownership of Shenzhen-listed companies is minimal, at less than 1.2 percent. In Hong Kong, a former British colony controlled by China that has a financial system open to international investors, it's 46 percent.
Hong Kong has long been used as an offshore outpost by Beijing, since China's markets are still mostly fenced off from global capital flows. Before the links were launched, foreign access was limited to a quota program for selected fund managers.
Of the 880 stocks listed in Shenzhen that can be traded via the Hong Kong exchange about 200 on the tech-heavy ChiNext board will be open to institutional professional investors at first.
Mainland investors, meanwhile, get access to 417 Hong Kong small cap stocks. That might appeal to mainland investors looking to diversify away from assets denominated in the yuan, which has weakened to its lowest level in eight years. Hong Kong stocks are priced in the city's own currency, which is pegged to the U.S. dollar.
Shenzhen's status as a financial center has risen as China's communist leaders have sought to shift away from reliance on export-oriented manufacturing toward growth based on self-sustaining, more environmentally friendly domestic demand.
"Shenzhen represents the 'new economy,' that's very clear," said Nicole Yuen, head of China equities at Credit Suisse. She noted that about two-thirds of Shenzhen-listed firms are private enterprises while the remaining third are state-owned. On the Shanghai board, it's the reverse, she said.
The market's not for the fainthearted: China's markets are volatile partly because individual, or "retail," investors dominate trading. In developed markets, institutional investors lead.
"With a retail-driven market, of course it's riskier because you think alike with other retail people. It can swing more quickly," leading to a "herd instinct," said Yuen. So, "why would people go to a risky market? Because the reward is better."
The Shenzhen All-Share index has risen 8.3 percent over the past six months but is down about 10 percent for the year. That compares with increases of 6.3 percent and 5 percent respectively for the Nasdaq Composite.
Expanding cross-border trading could help restore confidence in China's markets after a spectacular meltdown last year that was worsened by regulators' attempts to intervene. In June, the global stock benchmark provider MSCI opted not to add mainland Chinese stocks to its widely followed Emerging Markets Index. It said the markets need to be more accessible and closer to international standards.
"Shenzhen Connect may not simply open a floodgate of untouched opportunities as some might expect," said Michael Karbouris, Nasdaq's head of Asia-Pacific business development.
"The market is fairly expensive and already dominated by retail investors that like to speculate, and the combination of low cap stocks and volatility means the investment story is not straightforward. Investors will need to exercise caution."
Story: Kelvin Chan