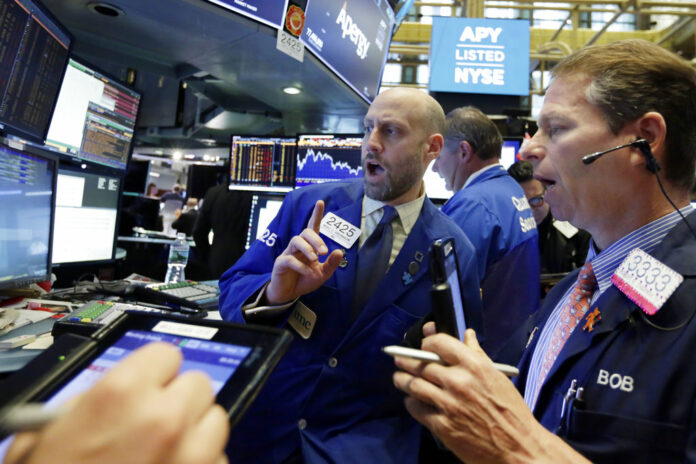 Stocks fell in Asia on Wednesday after turbulent sessions in the U.S. and Europe as Italy's political predicament stoked fears of instability in the euro bloc.
Keeping Score: The SET traded at 1,724.02, a drop of 0.6 percent. Japan's Nikkei 225 stock index dropped 1.5 percent to 22,013.86. South Korea's Kospi dropped 1.8 percent to 2,412.06. The Hang Seng in Hong Kong slipped 1.2 percent to 30,101.98 and the Shanghai Composite index fell 2 percent to 3,058.12. Australia's S&P ASX 200 fell 0.6 percent to 5,979.50. Shares fell in Southeast Asia and Taiwan.
Wall Street: Prices for U.S. government bonds surged as investors shifted money from stocks into lower-risk investments. Bond yields dropped, and with them, interest rates on mortgages and other kinds of loans, hitting bank stocks on expectations lenders would earn thinner profits. The S&P 500 index 1.2 percent to 2,689.86. The Dow Jones industrial average turned negative for the year, losing 1.6 percent to 24,361.45. The Russell 2000 index fell far less than the Dow, giving up 0.2 percent to 1,623.65. The Nasdaq composite fell 0.5 percent to 7,396.59. In Europe, the German DAX lost 1.5 percent and Britain's FTSE 100 and the French CAC 40 both sank 1.3 percent.
Italy: Investors dumped Italian government bonds, driving borrowing costs sharply higher for that country and rekindling fears of more financial strain for Europe's third-largest economy. The political upheaval will likely lead to new elections, and investors are interpreting the new vote as a referendum and that Italy could move closer to abandoning the euro if populist parties win the election. That could have major implications for the European financial system and its economy.
Analyst's Viewpoint: "Worries over geopolitics look set to hit Asia after sweeping through Europe and also the U.S. at the start of the week. That being said, a heavy data calendar from Wednesday could shift some attention back to economic growth and monetary policy," Jingyi Pan of IG said in a commentary.
Currencies: New jitters about the stability of the euro sent the currency's value against the dollar to its lowest level in almost a year. The dollar fell to 108.60 yen from 109.77 yen. The euro sank to USD$1.1529, its lowest since July, from $1.1537.
Treasuries: U.S. government bond prices jumped as investors moved money into lower-risk assets. The yield on the 10-year Treasury fell to 2.78 percent, its lowest since early April, from 2.93 percent. By mid-day Asia time it was at 2.83 percent.
Energy: U.S. crude oil fell 27 cents to $66.46 per barrel in electronic trading on the New York Mercantile Exchange. It dropped 1.7 percent to $66.73 a barrel in New York. Oil prices have slumped in the last week following reports that OPEC countries and Russia could start pumping more oil soon. Brent crude, used to price international oils, shed 49 cents to $75.00 a barrel in London.
Story: Elaine Kurtenbach