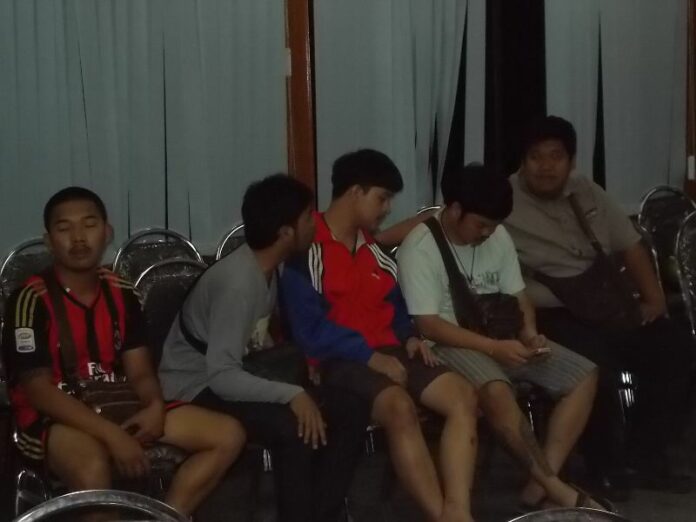 (8 January) Police in Pattaya have arrested a group of suspects who claimed they had kidnapped a Vietnamese man out of misunderstanding.
Mr. Niang Wan Too (name transcribed from Thai text), the 32-year-old Vietnamese national, told police he was walking with his girlfriend on Pattaya Soi 12 before a group of men arrived on a minivan. The group seized him into the vehicle and sped away.
His girlfriend, Ms. Buiti Hong Min (whose name also transcribed from Thai text), followed the minivan on a taxi-motorcycle and alerted the police.
The minivan was reportedly stopped at Diana Hotel alley, where the police then arrested the kidnappers, identified as Mr. Janephop Pongpai, 22; Mr. Peerapong Boonkor, 20; Mr. Raywat Yankrou, 22; Mr. Wutthinpong Boonkor, 23; Mr. Surapong Boonyuen, 22; and Mr. Chainarong Han-Chana, 23.
According to Mr. Niang, while he was detained on the vehicle the group had threatened him to pay back the debt, to which he replied that he had no idea what they were talking about.
The suspects told police they were hired by illegal creditors to hunt down a relative of one debtor in Pattaya, but their agent misidentified Mr. Niang as the target.
The suspects claimed that they had no intention to kidnap Mr. Niang for ransom, but Pattaya police said they are not convinced by the kidnappers' statement, and would continue to further investigate the case.
For comments, or corrections to this article please contact: [email protected]
You can also find Khaosod English on Twitter and Facebook
http://twitter.com/KhaosodEnglish
http://www.facebook.com/KhaosodEnglish