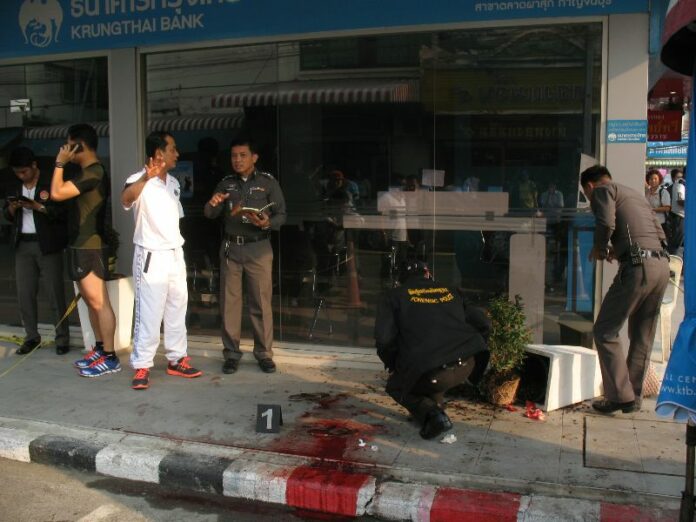 (26 March) Fight between rival vendors who sell food for monks has left one woman dead.
Police responded to emergency calls at around 07.00 today and arrived to investigate the crime scene at Phasuk market in Kanchanaburi province.
At the scene, police found one handgun, one empty bullet case, and shattered flower pots on pool of blood, while the victim who had been shot was already transported to hospital.
The victim, Ms. Boonchoo Kittisakthaworn 56, was reportedly shot in her head. She died at hospital. The police later located the suspected perpetrator, Mr. Warawut Somchit, 60, who was admitted to hospital for his head injury.
Pol.Col. Pongsakorn Uppapong, a police commander in Kanchaburi's Mueang district, said both Ms. Boonchoo and Mr. Warawut were vendors selling food items which would be purchased by Buddhists and donated to local monks, per Buddhist tradition.
The pair sold their products close to each other and their proximity often led to arguments and confrontation, Pol.Col. Pongsakorn said, adding that Ms. Boonchoo and Mr. Warawut have previously pressed charges to the police, accusing each other of intimidating their opponent with firearms.
The confrontation escalated this morning when Mr. Warawut brought out a handgun to threaten Ms. Boonchoo, Pol.Col. Pongsakorn said, and the victim decided to struggle for the gun, causing Mr. Warawut to fall onto flower pots and injured his head. The gun was later discharged by accident, according to Mr. Warawut, hitting Ms. Boochoo at her head.
A monk was also standing nearby to wait for food alms when the shooting occurred, the officer added.