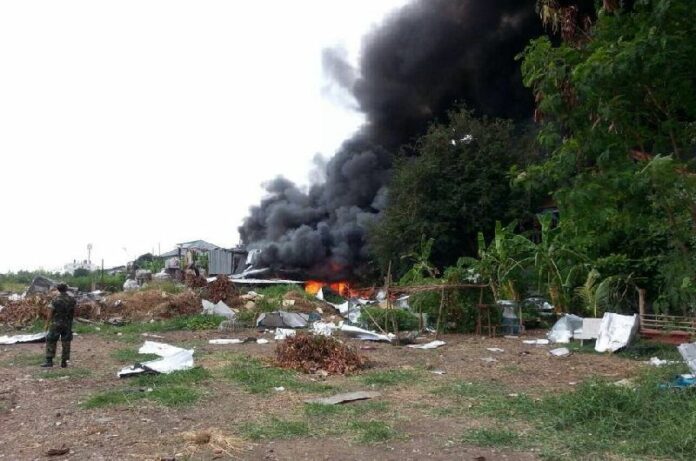 (2 April) A 230 kg explosive device went off inside a scrapyard in a Bangkok suburb after its staff reportedly attempted to dismantle it, killing at least 7 people.
Initially reported by a number of media sources as a gas leak explosion, the blast nearly obliterated the scrapyard in Soi Lat Prakao 72 and damaged at least 20 houses in the vicinity. A large plume of smoke could be seen across the northern suburb of Bangkok.
Witnesses later told police that the explosion was in fact caused by a large "old-looking" explosive device, which was found by a group of construction workers on a construction site near the scrapyard.
After unearthing the device, the workers reportedly took it to the scrapyard where its staff purchased it at an unspecified price and proceeded to dismantle the bomb with gas-fueled cutters, hoping to sell the metal scraps to local vendors.
However, witnesses said, the spark caused the bomb to explode, killing and injuring many individuals.
According to Erawan Rescue Centre, 7 people were killed and at least 40 people injured by the blast.
Initial reports by the police indicated that the 230 kg bomb was likely to have been dropped by the Allied force in an air raid on Bangkok during the Second World War, in which the Thai government sided with the Japanese Empire.
For comments, or corrections to this article please contact: [email protected]
You can also find Khaosod English on Twitter and Facebook
http://twitter.com/KhaosodEnglish
http://www.facebook.com/KhaosodEnglish