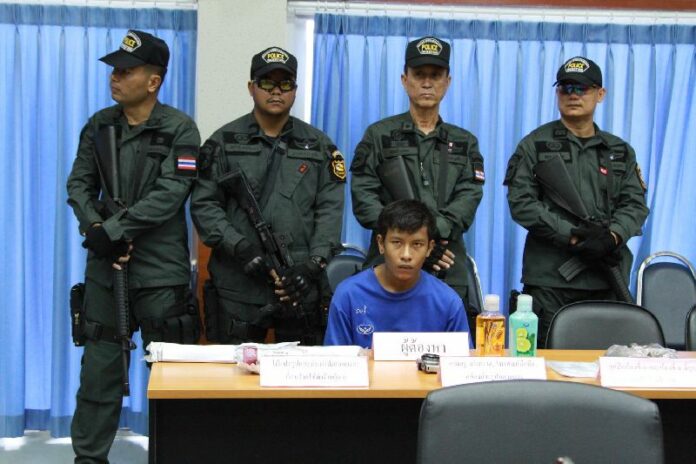 PHUKET — Police in Phuket province say they have arrested a immigrant from Myanmar who allegedly robbed and murdered a French tourist with an accomplice.
The body of Fabrice Boigeol, 37, was found in his room at a resort in Mueang district on 18 April. Following an investigation, police determined that two men entered Mr. Boigeol's room with the intention of robbing him, but ended up killing the French tourist as well.
The court later approved arrest warrants for the two immigrants from Myanmar, known as Ao, 24, and Dam, 23.
In a press conference attended by a French consul in Phuket today, police said that Mr. Dam is now in their custody.
According to police, Mr. Dam admitted to entering the room and robbing Mr. Boigeol. Mr. Dam and his accomplice reportedly took a number of Mr. Boigeol's belongings, including his laptop computer and mobile phone. Mr. Ao and Mr. Dam later sold these items and split the money, police said.
However, Mr. Dam claimed that it was his friend, Mr. Ao, who killed the Frenchman by smashing him with a piece of rock, a police spokesperson added.
Mr. Ao's whereabouts remain unknown.
For comments, or corrections to this article please contact: [email protected]
You can also find Khaosod English on Twitter and Facebook
http://twitter.com/KhaosodEnglish
http://www.facebook.com/KhaosodEnglish