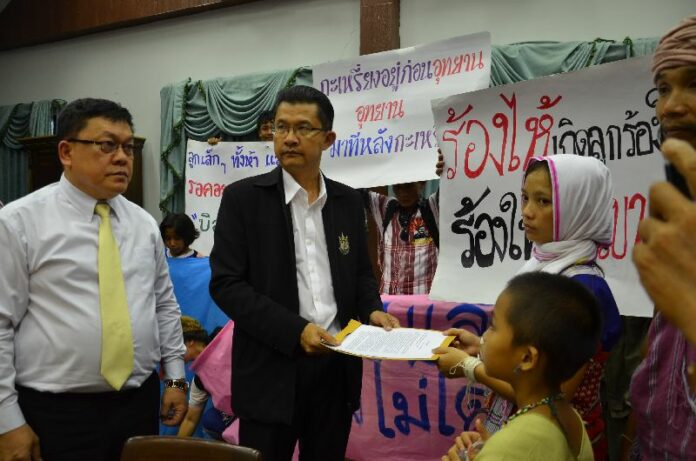 BANGKOK — The chief of Kaeng Krachan National Park, who has been accused of abducting a local ethnic Karen activist, will be "voluntarily" transferred, officials say.
The development comes more than three weeks after Porlachee Rakchongcharoen went missing from his Karen community in Kaeng Krachan National Park in Petchburi province. Mr. Porlachee had been actively campaigning for the rights of local Karen people, which officials have attempted to evict from the park numerous times.
Mr. Porlachee, aka "Billy," is also a key witness in court cases against the park's director, leading Billy's family to suspect that he was abducted under park director Chaiwat Limlikhit-aksorn's orders. Mr. Chaiwat has been accused of engineering the murder of another Karen activist from Billy's network, as well as torching the homes of more than 20 Karen families living in the park in 2011.
Local residents and activists have been calling for Mr. Chaiwat's removal since Billy went missing, claiming that his presence in Kaeng Krachan will prevent any serious investigation into Billy's disappearance.
Yesterday, Mr. Chaiwat signaled for the first time that he would honor these requests. The park director told Khaosod he has asked to be transfered to Ratchaburi province so that authorities can investigate Billy's suspected abduction without any interference.
"Since all the NGOs and human rights activists say I am an obstacle to the search for Billy, let me express my sincerity by leaving the area and letting them do their work, for the sake of their peace of mind," Mr. Chaiwat said. "But let me also stress what I have always said: I am not involved in Billy's disappearance, because there is no reason for me to do that."
Mr. Chaiwat admitted that he briefly detained Billy on 17 April – the date he was last seen by his neighbours – but said that Billy was later released from his custody.
He added, "No one pressured me to leave the post. I am doing this because I want to prove my innocence and sincerity."
The director said he will be transferred on 15 May, and that it will be temporary, lasting for only one month.
Samak Dontapee, a director of the Department of National Park, confirmed that Mr. Chaiwat is due to be transferred, but said it is not clear whether Mr. Chaiwat will be moved to Ratchaburi province or to the central bureau in Bangkok.
Mr. Samak also said he would consider the complaint submitted by local residents in Kaeng Krachan about the alleged brutality of park officials.
"I will firmly instruct the next National Park Chief to be very careful about this, and I assure you that these actions won't happen again," Mr. Samak said.
Mr. Samak added, "Meanwhile, as for the case of Mr. Chaiwat, if the investigation proves that he did not do anything wrong, you should give him some fairness, too."
For comments, or corrections to this article please contact: [email protected]
You can also find Khaosod English on Twitter and Facebook
http://twitter.com/KhaosodEnglish
http://www.facebook.com/KhaosodEnglish