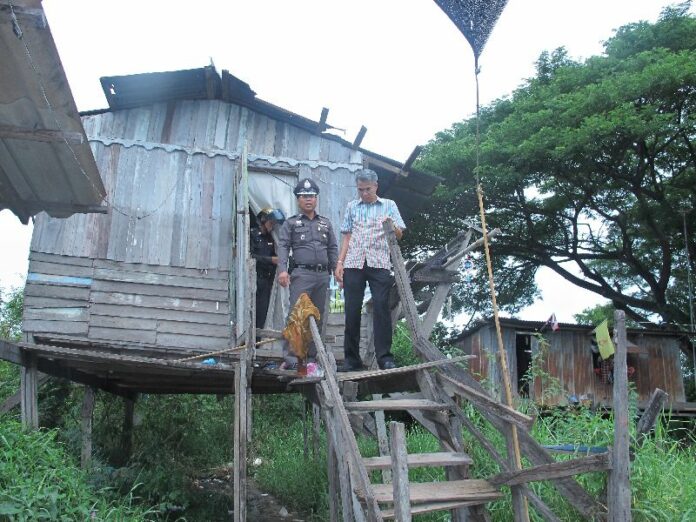 AYUTTHAYA — Police are investigating the case of a woman who was filmed beating her 5-year-old son because he failed to sell enough key rings to foreign tourists in the historic town of Ayutthaya.
The investigation came after a video (below) of the woman repeatedly hitting her son was widely circulated on social media. The video appears to be filmed inside the compound of Viharn Phra Mongkol Bopit temple in Ayutthaya's historic old quarters, a popular tourist destination.
In the video, the child is crying and begging his mother to stop hitting hum, but she continues to beat and yell at him for failing to sell enough key rings to foreign tourists.
"That guy runs, he catches up with customers! Why didn't you run like him, damn you!" the mother shouts at her son in the video.
Today police officers and social workers visited the home of the woman in the now-infamous video, but no one was home when the police force arrived.
A neighbour, Ploenchit Noirangsi, told police that the woman is known by locals as Kaew, and that she lives with her son and husband. According to Ms. Ploenchit, Ms. Kaew used to work at a factory, but recently lost her job and decided to take her son to sell keyrings to tourists. Ms. Kaew also reportedly takes her son sell keyrings to tourists at restaurants at night.
"It's already 10-11 pm when they get home each day," Ms. Ploenchit said. She added that Ms. Kaew's son attends a local kindergarten.
Ms. Ploenchit also told police she has seen Ms. Kaew beating her son from time to time, but she has never seen an outburst of violence like in the video.
"I am very sad. I used to take care of the boy when he was small. I feel so much pity for him," Mr. Ploenchit said.
She added that Ms. Kaew and her family fled the house after the video surfaced on social media.
Pol.Maj.Gen. Sermkit Sitthichaiyakan, a commander of Ayutthaya police force, said the police tracked down the woman's home soon after the video first surfaced in order to intervene and help the family.
"We didn't intend to make any arrest. We want to find a solution and help them, because violence against children will imprint violent memories on the child. He may repeat the violence in the future and affect society on a wider scale," Pol.Maj.Gen. Sermkit explained. "That's why we want to [determine] what was the cause of the violence."
He added that parents should not force their children to hawk goods to tourists during the day or at night, as children should be in school instead.
Wicharapon Chairattana, an official of the Ministry of Social Development and Human Security in Ayutthaya province, said authorities will attempt to locate Ms. Kaew and determine whether she is capable of raising her child in a safe environment.
"We believe the family was stressed by their situation of poverty, and so [Kaew] committed violence against her child," said Mr. Wicharapon.
Once Ms.Kaew is found, she will be reprimanded and could face legal prosecution if she abuses her child again, Mr. Wicharapon said.