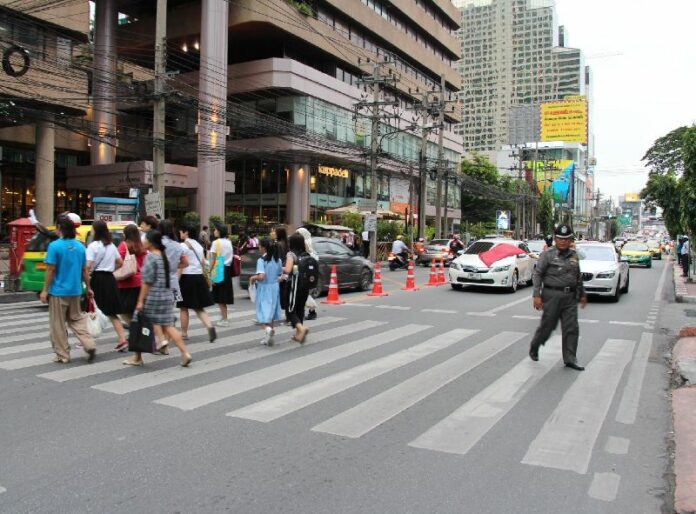 BANGKOK — Drivers in Bangkok are now legally required to stop for pedestrians at zebra crosswalks following a new campaign launched by police yesterday.
Police announced last week that from 1 September onward, motorists who failed to stop at zebra crossings in Bangkok will face a fine of 500 baht.
Although the current Traffic Act does require drivers to stop at the crosswalks, the law has not been strictly enforced and many pedestrians in the capital city prefer to use the "pedestrian bridges" over roads to avoid risking their lives with the oncoming traffic.
Pol.Maj.Gen. Nipon Charoenpol, deputy commander of Metropolitan Police Bureau, said police will begin monitoring drivers' behavior around zebra crossings in the financial district of Asoke.
"Drivers who don't slow down their vehicles when they approach the crossing will be fined no more than 500 baht," Pol.Maj.Gen. Nipon said yesterday. "Pedestrians who don't use zebra crossing will also be guilty of violating the Traffic Act … which carries a fine of no more than 200 baht."
Two jaywalkers were fined yesterday for not using the zebra crossings, said Pol.Col. Pusit Witsetkamin, deputy Traffic Police chief.
Pol.Maj.Gen. Nipon, who has a reputation for personally directing traffic on Bangkok's busy roads, said the campaign will help improve traffic around the Asoke Intersection.
Police will also take additional measures to ease the notorious traffic in Asoke, such as banning vehicles from cutting the opposite lane and deploying more police officers to oversee the traffic, added Pol.Maj.Gen. Nipon.