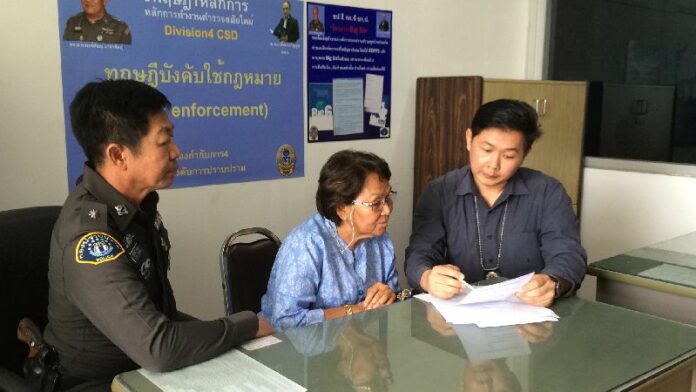 BANGKOK — Police have arrested a woman who allegedly made millions of baht from donations for a fake project to build a giant Buddhist statue that she said was sponsored by the World Trade Organisation.
According to police, Wanrat Rattanapol, 66, gathered money from residents in Chaiyaphum province throughout the month of July, promising them the donations would go towards building "the biggest Buddha statue on earth" in the province.
Ms. Wanrat told donators the project was commissioned and partially funded by the World Trade Organisation (WTO), police said. Ms. Wanrat also reportedly told residents that the construction would cost 320 billion baht.
Ms. Wanrat is also wanted by police for another fraud she allegedly committed between 2003-2006. According to court documents, Ms. Wanrat set up a fake charity foundation that she said was supported by the United Nations and would be used to buy plots of land for the poor. She raised money from residents in Uttaradit, Lamphun, Nakhon Sawan, and Sukothai provinces, police said.
Ms. Wanrat had been on the run from the authorities since 2006 and has amassed over 100 million baht from her fraud schemes, said Pol.Lt. Prasit Saengsala.
"I want to inform the public that scammers today have many tricks up their sleeves," Pol.Lt. Prasit said. "Sometimes they rely on merit-making and a sense of charity from honest people. They like to claim to have the backing of famous or important individuals, temples, and organisations."
He continued, "Please do not be fooled by these wrongdoers."
According to Pol.Lt. Prasit, Ms. Wanrat is thought to be a part of a larger group of conspirators and police are currently looking to identify other suspects.