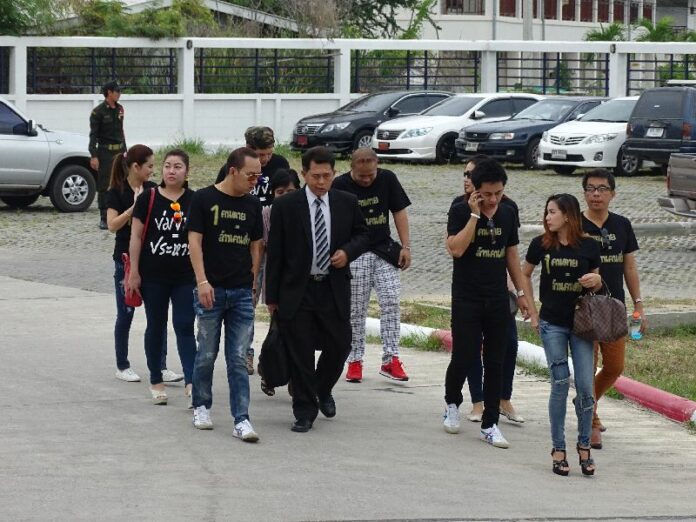 PRACHUAP KIRI KHAN — A Thai court has sentenced to death the state railway employee found guilty of raping and murdering a 13-year-old girl on a moving train two months ago.
Wanchai Saengkhao, was accused of sexually assaulting the girl before throwing her body overboard on a night train bound for Bangkok on 5 July. Mr. Wanchai worked as a cleaner on the train.
Mr. Wanchai was charged with sexually assaulting a minor, committing premeditated murder, and concealing the body. He was also charged with nighttime theft and drug abuse, as it emerged that Mr. Wanchai stole the victim's phone and took methamphetamine pills prior to committing the crimes.
Today Hua Hin Provincial Court found Mr. Wanchai guilty of all charges and sentenced him to death.
The court justified the verdict by noting that Mr. Wanchai's crimes were "cruel and without any shed of humanity," therefore deserving the harshest punishment available under the law.
Although Thai courts usually reduce sentences for defendants who confess, the judges said Mr. Wanchai's confession did not merit such reduction because he only confessed "when defeated by evidence."
The court also found a colleague of Mr. Wanchai guilty of assisting with the rape and murder. Nattakorn Chamnarn, who allegedly served as a look-out for Mr. Wanchai and kept silent when police investigation began, was sentenced to four years in prison.
Mr. Wanchai remained expressionless throughout the verdict reading. He was later escorted out of the courtroom without speaking to the press.
A relative of the murdered girl said his family still makes merits to her soul every day.
"I feel sorry for her mother. She misses her very much," the relative said.
Her family will continue to press for making the death sentence the highest penalty for convicted rapists, added the relative, who was wearing a black t-shirt that said "Rape = Execution."
Under Thai law, rape is punishable by up to 20 years in prison, and a rape assisted by weapons in punishable by life in prison.
The campaign calling for the death penalty started almost immediately after Mr. Wanchai's crimes were reported in the news. Pro-execution activists gathered tens of thousands of signatures and staged rallies to voice their demands in defiance of the junta's ban on all public protests.
Pro-death penalty supporters insist that executing rapists will decrease the number of rape incidents, though human rights activists say there is little proof that the death penalty is an effective deterrent against crimes.
The junta's National Council for Peace and Order (NCPO) has not yet publicly responded to the campaign.
Panadda Wongphudee, former actress and a core leader of the pro-death penalty campaign, said more than 100,000 people have signed a petition that calls for punishing convicted rapists with the death penalty.
"This case is just one of many other rapes that happen every day," Ms. Panadda said. "I want the laws to be something that people can rely on, and I want to the public to step up the campaign for this issue."
Sexual abuse is considered to be widespread in Thailand. An average of 87 cases of sexual violence are reported every day – one case per every 15 minutes – according statistics from 2013 compiled by the Ministry of Social Development and Human Security.
For comments, or corrections to this article please contact: [email protected]
You can also find Khaosod English on Twitter and Facebook
http://twitter.com/KhaosodEnglish
http://www.facebook.com/KhaosodEnglish