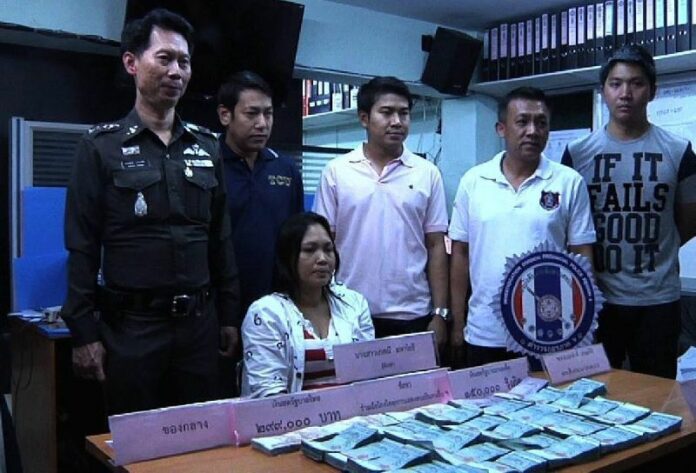 BANGKOK — Police have arrested a Thai woman accused of running a "Nigerian scam" ring in Thailand that has allegedly defrauded millions of baht from unsuspecting victims.
Kessanee Mahayothee, 34, was arrested near the Thai – Malaysian border in Songkhla province as she was attempting to leave the country with more than 1.8 million baht in cash, police say.
According to Pol.Col. Amornsak Kasemsiri, a detective officer in charge of the investigation, police also discovered that Kessanee has registered at least 47 bank accounts in her name, possibly to funnel illegal money.
Pol.Col. Amornsak told reporters yesterday that Kessanee confessed to working with of group of Malaysia-based Nigerian men who posed as Westerners and approached single Thai women on dating websites with the intention of scamming them for cash.
Yesterday's arrest followed a complaint by a Thai woman that a British man named James Thompson flirted with her and convinced her into an online relationship, Pol.Col. Amornsak said. The man reportedly offered to buy an apartment in Bangkok for the woman and promised to send 5 million baht to her as a payment.
However, the man later asked the victim to pay a fine of 39,000 baht to the Thai Customs Office to clear the cash transfer, with Kessanee posing as a Customs official, according to Pol.Col. Amornsak.
"The victim transferred the money to Kessanee's bank account. But after that, James stopped communicating with the victim, and she sought help from police," the officer said.
Several weeks ago, Thai police arrested a Nigerian man who allegedly conned over one million baht from a Thai woman through a similar scheme.
"I'd like to ask the public to be careful when they use social media," Pol.Col. Amornsak said. "In the past, there have been many victims of the scam. Please be careful and don't become another victim."
For comments, or corrections to this article please contact: [email protected]
You can also find Khaosod English on Twitter and Facebook
http://twitter.com/KhaosodEnglish
http://www.facebook.com/KhaosodEnglish