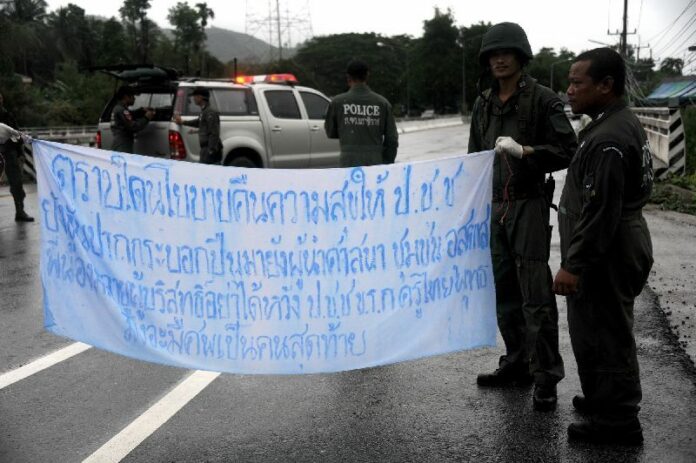 PATTANI — Soldiers have detained two men and one woman in connection with banners hung around Thailand's southern border provinces that threatened to kill more Buddhist civilians and officials in the region.
The three were arrested during a raid on a religious school in Thung Yang Dang district yesterday. The raid was a joint operation between soldiers and police officers to detain suspected members of the Islamic insurgents responsible for the banners, Pol.Col. Kowit Rattanachoti said.
"We secured permission from the owner of the madras before the raid," Pol.Col. Kowit said. "We have received good cooperation."
The banners were first spotted in Narathiwat on 18 November, but six more similar banners were hung in Pattani and Yala yesterday.
The text on the banners reads:
"As long as the policy of 'Returning Happiness to the People' is still about aiming gun barrels at religious leaders, communities, Muslim clerics, and innocent Malay brothers and sisters, Buddhist civilians, bureaucrats, and teachers should not hope that they will be the last dead bodies."
Police suspect the banners were hung by Islamic insurgents who have been staging attacks on security forces and civilians in the Malaysian-border provinces of Narathiwat, Yala, and Pattani, for the past decade.
The three suspects are being detained and interrogated at a military base in Yala, Pol.Col. Kowit said, adding that the arrests were permitted within the scope of martial law, which allows security forces to detain individuals without charges for up to 15 days.
On the same day, Gen. Udomdet Sitabutr, commander-in-chief of the Royal Thai Army, said he has instructed officials in the region, known as the Deep South, to step up their effort in "creating understanding with the people."
"The dissenters still stick to the incorrect way. We will try to reach understanding with them, in order to solve the problem," Gen. Udomdet told reporters.
At least 6,200 people have been killed since secessionist violence broke out in the Deep South in 2004. The bloody campaign has been waged by shadowy militant groups that seek to revive the independent sultanate of Pattani that was incorporated into modern Thailand in the early 20th century.
In contrast to the rest of country, where the vast majority of Thais are Buddhist, the Deep South is dominated by Muslims who speak a Malaysian dialect and often do not consider themselves Thai.
For comments, or corrections to this article please contact: [email protected]
You can also find Khaosod English on Twitter and Facebook
http://twitter.com/KhaosodEnglish
http://www.facebook.com/KhaosodEnglish