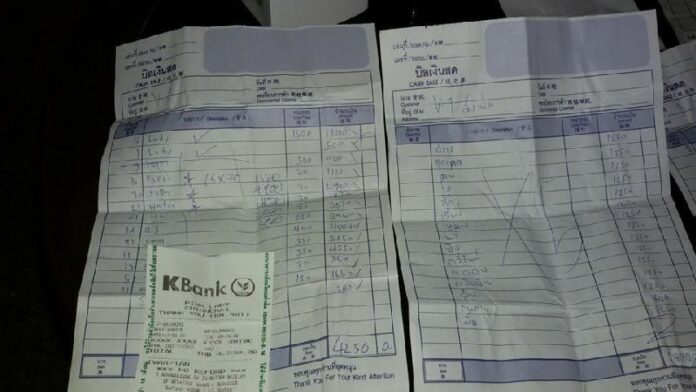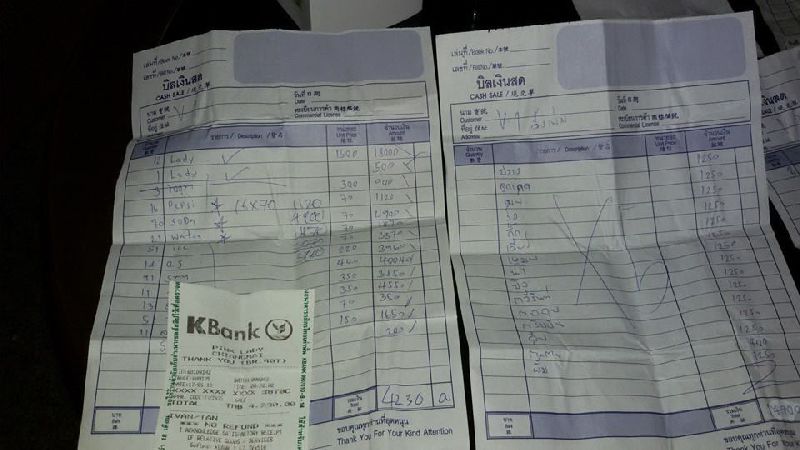 CHIANG MAI — A karaoke bar in Chiang Mai province has been shut down after it charged eight Malaysian tourists more than 100,000 baht for a night of carousing over the weekend.
The tourists, who filed a complaint with police yesterday, say they spent approximately four hours at the "Pink Lady" in Chang Klan subdistrict on 17 January.
At the end of the night, the group was presented with a bill totaling 114,080 baht, which they brought to police as evidence. The tourists said they were intimidated by the staff into paying the bill and decided to seek help from authorities afterwards.
According to the receipts, the tourists ordered nearly 100 sodas, 12 "ladies," 11 plates of food, and a string of other unidentified or obscurely abbreviated items on Saturday night.
Police say the owner of the Pink Lady confessed to charging the tourists an unusually high rate, explaining that 30 percent of the money was distributed to the taxi drivers who brought the tourists to the bar.
The owner eventually agreed to return 60,000 baht back to the tourists, who accepted the partial refund and agreed not to press charges.
However, after discovering that the bar was operating without a license, police charged the owner with running a nightlife establishment without a permit.
The bar owner, who police have not identified by name, faces up to one year in prison and a 60,000 baht fine if found guilty.
The Governor of Chiang Mai province also signed an order to shut down the Pink Lady karaoke bar immediately.
Pol.Col. Weerayuth Prasopchokechai, who was transferred to his post as superintendent of Mueang Chiang Mai Police Station last week, vowed to "root out" all illegal and extortionate karaoke bars in the province.
"I'd like to warn these bars to stop their operations now," Pol.Col. Weerayuth said. "And as for the people who claim to be police officers and coerce the bars into paying them protection money, please stop. I am investigating the incident and finding out who these people are."
A police officer said such karaoke bars have been a problem for tourists in Chiang Mai in recent years. According to the officer, the bars target foreign tourists and Thais from other regions.
"Many customers are too afraid to argue because the security guards intimidate them, but if some customers file a complaint with the police, the bars will offer some refund," the officer explained. "However, in the majority of cases, the customers don't pursue charges because they think it's a waste of their time."