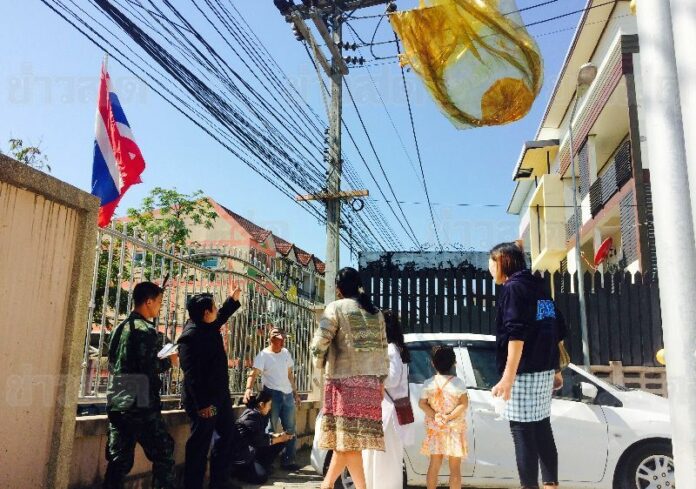 CHIANG RAI — A car and electric pole in Chiang Rai province were damaged by a sky lantern filled with homemade explosives today.
The incident took place in front of a governmental tax office on Den Ha – San Khong Noi Road at around 1 pm, police say.
The car was damaged by the blast, and burning remnants of the lantern were entangled in wires hanging from a nearby electric pole.
Police later took down the lantern and discovered that at least "ten" homemade fireworks were attached.
Thanorm Phamung, 72-year-old staff at Wat Chetuphon, met with police and told them the lantern was launched from the temple during a religious ceremony.
He did not explain why the lantern was loaded with homemade explosives, but said the temple will compensate anyone who was affected by the incident.
Aviation authorities in the province say Chetuphon notified them about the lantern launch in advance, but did not inform them of the specific equipment involved.
Sunthree Jaiya, a 52-year-old grocery store owner, said she was cooking when she heard several loud booms.
"I thought it was the electric pole exploding," she said "Then there were many more explosions."
Police believe the lantern got stuck in the electric wires, causing several fireworks to drop to the ground.
The car damaged in the incident belonged to Saowalak Thep-inpa, a 24-year-old state employee. "I bought it only five months ago," she said.
Thai authorities have repeatedly tried to enforce laws regulating sky lanterns, which consist of paper balloons buoyed by a flaming wick, but often to little avail.
For comments, or corrections to this article please contact: [email protected]
ming paper wick, but so far to little avail.