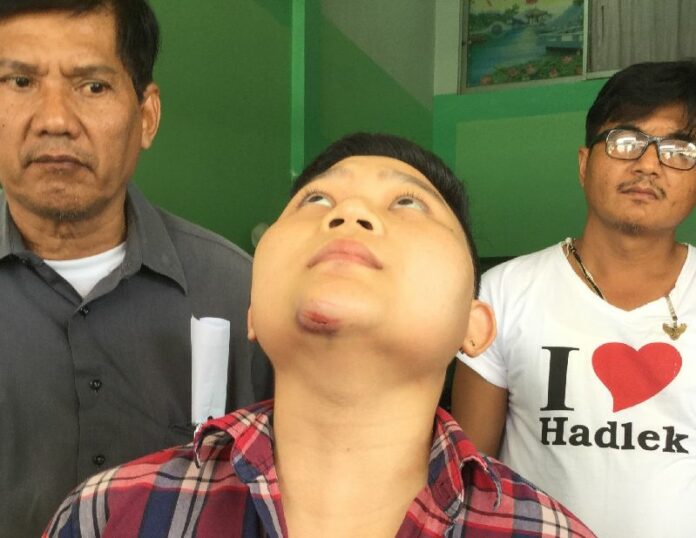 TRAT — A high-ranking police officer in Trat province is under criminal investigation for allegedly assaulting a woman in a jealous rage.
Neranchala Petchploy, 21, told police yesterday that she was beaten and threatened at gunpoint by Pol.Lt.Col. Dusit Pongpraikorn, an officer at Klong Yai Police Station, at her home on the night of 9 March.
Neranchala said she was overseeing her internet cafe, which located on the ground floor of her residence, when five men stormed into the building at around midnight, told her customers to leave, and proceeded to beat and kick her repeatedly.
One of the men pulled out a handgun, pressed it to her head, and slapped her in the face with the weapon, Neranchala said. She told police that she recognized the man as Pol.Lt.Col. Dusit. The officer also reportedly screamed insults at Neranchala and accused her of having an affair with his girlfriend.
Neranchala, who identified herself as a lesbian, insisted that she had no romantic relationship with Pol.Lt.Col. Dusit's girlfriend, who is called "Beau."
"I and Beau knew each other only recently. We had no romantic affairs," Neranchala told police yesterday.
After the assault, Pol.Lt.Col. Dusit and his companions calmly drank beer in the internet cafe, and later left the scene, according to the victim.
Pol.Lt.Col. Dusit has been suspended from duty and charged with physical assault, attempted murder, and illegal entry into a residence at nighttime, said Pol.Col. Boonsong Peekkhuntod, superintendent of Mueang Trat Police Station. The police force has also set up a disciplinary committee to investigate the incident, he said.
"After what happened, I personally contacted Pol.Lt.Col. Dusit, and he said he couldn't control his rage so he assaulted Ms. Neranchala," said Pol.Col. Boonsong. "This is a very serious issue. I would like to tell the public not to be worried that we will help him just because he is a fellow police officer."
If found guilty, Pol.Lt.Col. Dusit will be punished with both criminal and disciplinary actions "as an example," said commander of the Trat Provincial Police, Pol.Maj.Gen. Waratchai Srirattanawutthi.
"We will give fairness to both sides, even though one of them is my subordinate officer," he said.
For comments, or corrections to this article please contact:[email protected]
You can also find Khaosod English on Twitter and Facebook
http://twitter.com/KhaosodEnglish
http://www.facebook.com/KhaosodEnglish